ENGLEWOOD, Colo. –For the first time since injuring his knee in Denver's Week 11 win against the San Diego Chargers, running back Willis McGahee rejoined the team at practice on Tuesday.
McGahee, who was placed on injured reserve with a designation to return, is not eligible to play this week, but would be if the Broncos were to advance to the AFC Championship game.
"He's worked very hard," Head Coach John Fox said. "'Greek' (Head Athletic Trainer Steve Antonopulos), his staff and Willis have worked very hard to get him back. He had a good first day."
Despite missing the final six games of the regular season, McGahee finished the year as Denver's leading rusher with 731 yards on 167 carries for a 4.4 yards-per-carry average.
The 2011 Pro Bowler topped the 100-yard mark in three of Denver's first seven games and was on his way to another strong performance with 55 yards on just seven carries when he hurt his knee against the Chargers.
Players were excited to see McGahee return on Tuesday.
"It was really great to see Willis back on the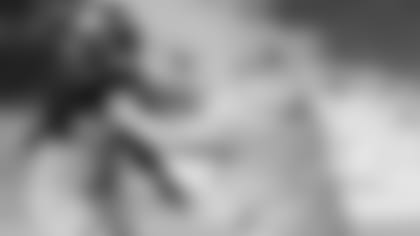 practice field," quarterback Demaryius Thomas said. "I know how hard he's worked in his rehab. He's been a huge part of our team this year and just to see him on the practice field was a real positive step. We hope to get him back out there whenever we can."
In order for McGahee to have a chance to return to the lineup this season, the Broncos need to win on Saturday against the Ravens.
For that to happen, the Broncos will rely heavily on Knowshon Moreno, who has stepped up as the starter in McGahee's absence.
"Knowshon has just done a heck of a job for us all season," Manning said. "I know I keep repeating myself, but the fact that he was inactive for such a large part of the season, they called his number and he stepped in right away."
Moreno has surpassed 100 yards from scrimmage in four of his six starts since McGahee's injury and his four rushing touchdowns are tied with McGahee for the team lead.
Being able to depend on a run game to keep the Baltimore defense on its toes is something that Manning pointed to as a key for Saturday's game.
Moreno's ability to fill in for McGahee without the offense missing a beat has been paramount to the team's success as it ended the year on an 11-game win streak.
"I think we've done a decent job of being balanced – run game, pass game," Manning said. "Knowshon has stepped in for us and has done a heck of a job."
One of Moreno's strongest performances came against the very team that the Broncos will face in the Divisional Round, the Baltimore Ravens.
Moreno earned the AFC Offensive Player of the Week award after running for 115 yards on 21 carries with one touchdown in Denver's Week 15 win at Baltimore.
"Every week we go into the game wanting to be able to run the ball and throw the ball," Moreno said. "Being able to run against that good of a team was definitely a boost and definitely meant a lot to us. Now we want to try to duplicate that and then go out there and get ready."