ENGLEWOOD, Colo. –In his two seasons calling the plays as the Broncos' offensive coordinator, Mike McCoy has shown his ability to adapt to his team's strengths.
In 2011, the Broncos won the AFC West and advanced to the Divisional Round of the playoffs with the league's top-ranked rushing attack.
This season, it's a fifth-ranked passing offense that has spurred the team to score the second-most points in the league and repeat as AFC West Champs.
Thanks to that success, McCoy has drawn interest from some of the teams with a head coaching vacancy.
"It's an honor being considered for those jobs," McCoy said. "But it goes to show you the type of players we have here and the organization we have here. As coaches, we're all products of the players we have and the other guys we work with. It's an honor and we'll see what happens."
Quarterback Demaryius Thomas has spent plenty of time with McCoy this season and sees qualities in his current offensive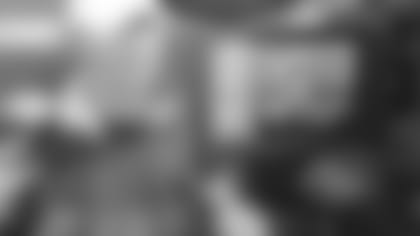 coordinator that would make him a good head coach.
"I think he's ready," Manning said. "I think he's paid his dues. Mike's a good leader. He's had some good coaches that have been mentors to him, different coaches that he's worked with in his years in the NFL that I think he's incorporated some of their leadership philosophies and his own philosophy and like I said, he's a strong leader. In my opinion, he deserves a shot at one of these head coaching jobs."
Manning credited McCoy with helping him turn in a record-setting season during his first campaign as a Bronco in 2012.
"Mike has been a great resource for me, he's been incredibly supportive and patient with me in kind of putting together this hybrid offense," Manning said. "I tell you, he's a worker. We spend a lot of hours together – early mornings, late nights – trying to get kind of our plan in place for what kind of offense we were going to be. There's no substitute for a work ethic and Mike certainly has that."
McCoy finished his fourth season as the Broncos' offensive coordinator in 2012, tying him as the second-longest tenured coach on the team's staff.
McCoy just completed his 13th regular season as an NFL coach, having held offensive assistant (2000), wide receivers coach (2001), quarterbacks/offensive assistant (2002), quarterbacks (2003-06), passing game coordinator/quarterbacks (1007-08), offensive coordinator/quarterbacks (2009) and offensive coordinator (2010-12) titles in his career with Carolina (2000-08) and Denver (2009-12).
"I think anytime with team success, your guys get opportunities," said Head Coach John Fox, who has coached nine seasons with McCoy, including seven in Carolina. "That's players, coaches, everybody. He's a heck of a coach. We've got a lot of very qualified coaches on this staff assistant-wise that will get opportunities but we're still focused on what we still have to do here with the Denver Broncos."
McCoy interviewed with the Miami Dolphins for their head coaching position last offseason, and said he gained a lot by going through the process a year ago.
"It's a learning experience and every owner, every organization's different," he said. "So they're looking for something different and you've just got to go in there and be yourself and when you walk out of that room with whoever's in there, just say, 'You know what? You did the best you can.'"
McCoy said he plans to meet with "a few" teams this weekend while the Broncos are off for their postseason bye week.
He has set up the meetings in a way that doesn't interfere with his or the team's preparation for Denver's Divisional Round matchup on Saturday, Jan. 21.
"Everyone has individual goals, as a coach and a player," McCoy said. "But it's team first here and we still have a lot left here. Hopefully, one day I will become a head coach but we still have a lot of football ahead of us here and we'll see what happens down the road."
While he'd like the chance at a head coaching job in the NFL, McCoy said regardless of how his interviews go, he appreciates what he called an "unbelievable job" that he currently holds as the offensive coordinator of the Denver Broncos.
"I love my job here," McCoy said. "I work for the best organization in the NFL. (Owner and CEO) Mr. (Pat) Bowlen's the best owner. (Executive Vice President of Football Operations) John Elway and (Head Coach) John Fox have given me the opportunity that I have here. My wife and I and the kids, we absolutely love Denver, so we'll see what happens. If it's meant to be it will be. If not, hey, we can stay here for a long time."
"John Fox and John Elway have done great things here and they're going to continue to do great things here," he added. "It's an honor and privilege to have a job for the Denver Broncos, so we'll see what happens."