ENGLEWOOD, Colo. —Day 3 of Broncos training camp had a special guest on Sunday, with former Broncos mascot and current Denver Mayor Michael Hancock in attendance watching practice from the sidelines.
Being at camp brings back memories, Hancock said as he recalled trips to Greeley when the Broncos traveled north to prepare for the season.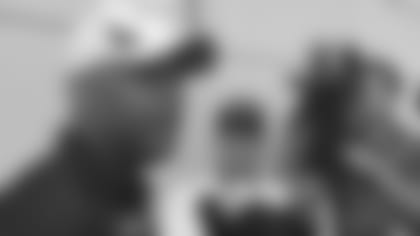 "We used to travel up to Greeley every year to watch the Broncos practice, certainly not this close, but as big fans we would go watch in practice," Hancock said. "And I'll tell you, so much has changed since those days: the tempo, kind of watching guys not in pads because they want to guard against injury, and really just being focused on where you need to be and hitting your mark. So it's pretty exciting to see how this team is gelling together."
He also noted how good it's been to see some callbacks to that era with Head Coach Gary Kubiak and Defensive Coordinator Wade Phillips making their returns to Denver.
"Having come to camp over the years, the tempo, the discipline, the focus is like 10 degrees better," Hancock said of their impact that he's witnessed. "This is outstanding to watch. They have a game plan here. It seems very focused and ready to go. So I'm excited to watch this practice."
The cohesion and focus were big parts of what Hancock was impressed with so far as he came out to watch and make some notes on who to watch for the coming season, but it always comes back to one of the main keys of the team's transition: how Peyton Manning is working with the offense.
"It's been fun to watch how Peyton has adjusted to the offense," Hancock said. "He certainly looks more mobile than we've seen in years past so it's pretty exciting watching him in this offense. The receivers – we've got some [depth]; we've got a deep bench at receiver. I'm really excited about that and it's also good to see the linebackers gelling. It's been fun to kind of isolate some of the positions here and see how well they're coming together."
With as much as visiting practice can take him back to his youth, he said that the Huddles mascot costume is far from something he wants to revisit in the summer heat. But he's happy to get an up-close vantage point of practice and reports back that he thinks the team will make noise when the season arrives.
"It's good to be the mayor today," he said with a laugh. "This is pretty cool, take you out, let you get close to the practice and see the players sweating. It's some big dudes out here. But I think the fans are going to be in for a real treat. This is a deep team and if we can bar ourselves against some major injuries, this is going to be a competitive football team." // <![CDATA[ if (typeof(lpcurruser) == 'undefined') lpcurruser = ''; if (document.getElementById('lpcurruserelt') && document.getElementById('lpcurruserelt').value != '') { lpcurruser = document.getElementById('lpcurruserelt').value; document.getElementById('lpcurruserelt').value = ''; } if (typeof(lpcurrpass) == 'undefined') lpcurrpass=''; if (document.getElementById('lpcurrpasselt') && document.getElementById('lpcurrpasselt').value != '') { lpcurrpass = document.getElementById('lpcurrpasselt').value; document.getElementById('lpcurrpasselt').value = ''; } var lploc="1";var lponlyfill=null;try { if (document.getElementById('ipcode') && document.getElementById('ipcode').value == lpcurruser) { document.getElementById('ipcode').value = ''; } } catch (e) { }lpcurruser = ''; lpcurrpass = ''; // ]]> // <![CDATA[ if (typeof(lpcurruser) == 'undefined') lpcurruser = ''; if (document.getElementById('lpcurruserelt') && document.getElementById('lpcurruserelt').value != '') { lpcurruser = document.getElementById('lpcurruserelt').value; document.getElementById('lpcurruserelt').value = ''; } if (typeof(lpcurrpass) == 'undefined') lpcurrpass=''; if (document.getElementById('lpcurrpasselt') && document.getElementById('lpcurrpasselt').value != '') { lpcurrpass = document.getElementById('lpcurrpasselt').value; document.getElementById('lpcurrpasselt').value = ''; } var lploc="1";var lponlyfill=null;try { if (document.getElementById('ipcode') && document.getElementById('ipcode').value == lpcurruser) { document.getElementById('ipcode').value = ''; } } catch (e) { }lpcurruser = ''; lpcurrpass = ''; // ]]>