ENGLEWOOD, Colo. --It took barely nine months for Matt Paradis to go from being a new starter promoted to the first team during training camp to the longest-tenured starter in the group.
"Right? It feels weird," he said, smiling.
"It's weird being the vet; this is year three for me. But it's a role I played in college, so it's not that different -- just getting everyone on the same page."
But Paradis has always played -- and acted -- older than his years. Sure, he's just 26, with 19 regular-season and playoff games on his resume. But he has played and conducted his daily business with a maturity that belied his lack of experience; he has the unruffled composure of a 10-year veteran.
That helped Paradis emerge as a fulcrum amid last year's massive offensive-line changes. Along with 2015 fourth-round pick Max Garcia, he was promoted from the second team a week into training camp. With Ty Sambrailo working at left tackle, the Broncos' first-team offensive line last summer featured three players with no prior regular-season snaps among them.
Garcia eventually settled into a relief role seeing time in place of first-team guards Louis Vasquez and Evan Mathis, who joined the Broncos late in the preseason. Sambrailo started the first three regular-season games before suffering a season-ending torn labrum.
Meanwhile, Paradis pressed forward. Garcia played so many snaps as a swing backup at guard that he was considered a sixth starter, and there were occasional shuffles at tackle, with the now-retired Tyler Polumbus seeing action in spurts in place of Ryan Harris and Michael Schofield.
By the time the confetti fell at Levi's Stadium, Paradis was the only Bronco to have played 100 percent of the snaps -- a whopping 1,312.
"That's a lot of snaps," Paradis said.
By playing into February, he had less recovery from more work than anyone in the NFL. But as the fourth week of offseason work begins, he feels fresh.
"I think I am [recovered]," he said. "I'm feeling pretty good."
His continued progress is crucial, because on the offensive line, Paradis is the only returning first-teamer at his position. Free-agent pickups Russell Okung and Donald Stephenson are set to man the tackle spots, while Sambrailo is set to move inside to guard, a position at which many projected him when he was drafted last year.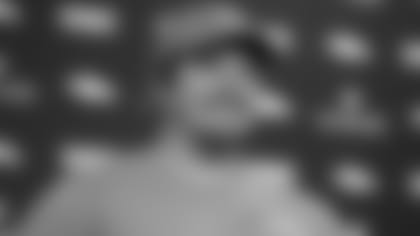 "I'm very excited about this group we've got," Paradis said. "A lot of smart guys, athletic guys -- and guys that are going to work hard. It's hard to give you an exact [measurement] of how [much] better we're going to be, but I think we will be better."
But Paradis is the only incumbent, which means the entire unit looks to the 26-year-old Paradis for leadership -- and as a building block for creating chemistry on the unit.
On March 22, Head Coach Gary Kubiak pointed to Paradis as one of the players who could fill the leadership void left by Peyton Manning, along with Demaryius Thomas, Emmanuel Sanders and C.J. Anderson on the offensive side of the line of scrimmage.
What they have in common are multiple previous seasons with the Broncos.
"Just looking back, from my rookie year, it's myself and Schofield -- we're the only guys back from that year," Paradis said. "Over the last couple years, there's been a lot of turnover, so we've got to build that cohesion and unity."
His work with Garcia and Sambrailo last year gives the unit a head start.
"That'll be huge," Paradis said. "Max, they're not calling him a starter, but that's how we viewed him last year; he was a starter in our eyes. Ty, before his injury, was a starter. Those guys got a lot of snaps under their belt and have a head start."
Making this unit a cohesive quintet will take some time. But it is filled with players who are perfect fits for the Broncos' zone-based scheme.
"I think we're ahead of where you would think we would be," Paradis. "We've got a lot of guys that have been in this type of scheme before with Okung and the guys back from last year."
The linemen must also adjust to a new quarterback -- whoever he ends up being, whether it is Mark Sanchez, Trevor Siemian or Paxton Lynch.
"Obviously, Peyton [Manning] was one of the best to ever play the game. So there are differences. But there's differences between every quarterback," Paradis said. "There's nothing too special for us. We're snapping and blocking our assignments either way."
That's a mature, calm way to look at the situation -- which is exactly what the Broncos have come to expect from Paradis.
After completing the first phase of the Offseason Program, which was limited to the weight room, the Broncos began their second phase in the fieldhouse. (Photos by Ben Swanson)