The rankings incorporate offensive, defensive and special-teams metrics, with a focus on yardage per play, adjusted per-possession efficiency (including points per possession) and the rate at which teams gain and prevent first downs. Strength of schedule and error rates (penalties and giveaways) are also factored into the calculation.
Possession data is adjusted to eliminate kneeldowns or other obvious scenarios where the offense is not attempting to advance the football.
1. New England Patriots (5-0)
Last week: 1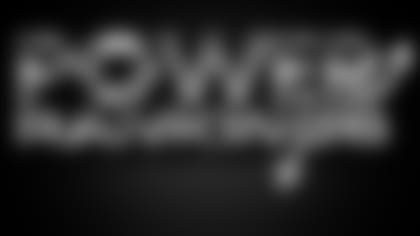 2. Cincinnati Bengals (6-0)
Last week: 5
They don't make mistakes; in error ranking, which is compiled from giveaway rate and penalty rate, they lead the league. They are now fourth in net point differential. They force opponents into mistakes. They are third in adjusted offensive per-possession efficiency, second in yardage per play and second in points per possession.
3. Green Bay Packers (6-0)
Last week: 3
4. Arizona Cardinals (4-2)
Last week: 2
Despite two losses, the Cardinals hold fast to a spot in the top five because they remain the league's leaders in net point differential and rank in the league's top five in adjusted per-possession efficiency and first-down rate on both offense and defense.
5. Carolina Panthers (6-0)
Last week: 7
Denver Broncos (6-0)** Last week: 4
How do you drop after a tough road win? Mistakes -- three more interceptions -- and penalties. The Broncos now rank third in the league in penalty yardage per game and tied for seventh in giveaways. In adjusted points per possession, they rank third on defense -- and third from the bottom on offense. The defense and offense cancel each other out; what keeps the Broncos near the top are their wins, their RPI and their special teams.
7. New York Jets (4-1)
Last week: 7
8. Pittsburgh Steelers (4-2)
Last week: 10
9. Atlanta Falcons (5-1)
Last week: 6
10. Seattle Seahawks (2-4)
Last week: 11
11. Philadelphia Eagles (3-3)
Last week: 13
Defense continues to carry Chip Kelly's team. Philadelphia is one of three teams (along with the Jets and Broncos) in the league's top five in three key defensive metrics: adjusted per-possession efficiency (No. 3), yardage per play (No. 4) and first-down rate (No. 4).
12. New York Giants (3-3)
Last week: 9
13. Minnesota Vikings (3-2)
Last week: 16
14. Buffalo Bills (3-3)
Last week: 12
15. Oakland Raiders (2-3)
Last week: 15
16. Dallas Cowboys (2-3)
Last week: 18
17. St. Louis Rams (2-3)
Last week: 19
It's not that the Rams and Cowboys did anything during their bye weeks; this is all about the descent of teams around them. But it's also worth noting that the Rams' defense ranks second in adjusted points per possession allowed (1.37 points), just behind the Jets and a scosh ahead of Denver (1.41 points).
Miami Dolphins (2-3)** Last week: 30
One good game does not make up for the rest of the season to date, but a dominant, efficient win over the Titans offers an indication of what could be to come if interim coach Dan Campbell can sustain their momentum.
19. Baltimore Ravens (1-5)
Last week: 17
Excellent special teams, a reasonably efficient offense (11th on a per-possession basis) and a middle-of-the-road net point differential (19th) reveal this to be a team that is better than its record. But the Ravens keep losing close games, and
20. Cleveland Browns (2-4)
Last week: 22
21. San Diego Chargers (2-4)
Last week: 23
22. Kansas City Chiefs (1-5)
Last week: 24
23. Indianapolis Colts (3-3)
Last week: 21
No, the Colts did not get a downgrade for their stupefying fake-punt attempt. But despite their record, they remain near the bottom because they rank 17th in adjusted per-possession efficiency on offense and 27th on defense, and 23rd and 27th in offensive and defensive yardage per play, respectively. Their overall special-teams grade isn't great, either (T-24th).
Tennessee Titans (1-4)** Last week: 14
A putrid performance against the Dolphins pushed the Titans down to the range in which they probably belong, anyway. Their Week 1 shredding of the Buccaneers provided some artificial inflation, but last week's 31-10 loss negated any statistical benefit they received from the season-opening win, which seems as far away as Pluto.
25. New Orleans Saints (2-4)
Last week: 29
26. Houston Texans (2-4)
Last week: 28
27. Tampa Bay Buccaneers (2-3)
Last week: 25
28. Washington Redskins (2-4)
Last week: 20
San Francisco 49ers (2-4)** Last week: 31
Extricating themselves from the hole they dug themselves during two September thrashings will take a while.
30. Chicago Bears (2-4)
Last week: 27
31. Detroit Lions (1-5)
Last week: 31
32. Jacksonville Jaguars (1-5)
Last week: 32
Their Week 2 win over Miami looks more and more like a fluke made possible by the Dolphins' self-immolation via penalties and mental mistakes. Julius Thomas' return to health hasn't helped, mainly because the defense ranks 31st in adjusted per-series efficiency.
---
The rankings are culled from 30 different statistics:
Wins
Point differential
Ratings Percentage Index
Penalty rate
Opponents' penalty rate
Giveaway rate
Adjusted per-possession efficiency (yardage and points per possession)
Yardage per play
Move-the-chains rate
Yardage per pass play
First-down percentage on pass plays
Yardage per rush
First-down percentage on rushing plays
Takeaway rate
Adjusted per-possession efficiency
Yardage per play
Move-the-chains rate
Yardage per pass play
First-down percentage on pass plays
Yardage per rush
First-down percentage on rushing plays
Kick block rate
Kickoff-return average
Punt return average
Net punting average (which incorporates opponents punt returns)
Punting touchback rate
Punting inside-the-20 rate
Touchback percentage on kickoffs
Opposing kickoff-return average
Placekicking efficiency