@MaseDenver // what do you think of Schofield? Seemed like he fell out of favor a bit. Chance at redemption? Or necessity? — Tim Hurley (@yhtomitim) October 2, 2015
It's both a shot at redemption and a promotion out of necessity.
If Ty Sambrailo could have started, Michael Schofield wouldn't be preparing to start at right tackle; Ryan Harris would be.
But Schofield's ascension to the starting lineup shows the difference between the Kubiak era and the one that just ended. Last year, when the offensive line was struggling and couldn't find a right tackle after cycling through Chris Clark and Paul Cornick, the Broncos took the drastic measure of moving Louis Vasquez to right tackle, inserting Manny Ramirez at right guard and Will Montgomery at center.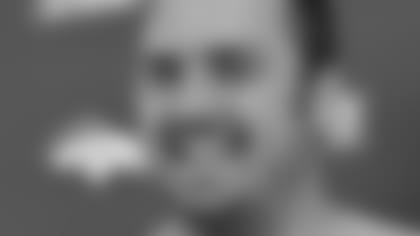 Schofield, who wasn't active for a single game last year, took that personally.
"That was definitely hard, especially when they brought Louis over to tackle. That was kind of a shot at me, I felt like," Schofield said Friday. "But I've been working my [rear end] off to try and get back out there."
And he will receive his shot in the spot for which he is best suited: right tackle. It didn't even take a detailed review of the film of the preseason finale to know that he struggled at left tackle -- and he knew it, too.
"The fourth game was a struggle for me. Up to that, I played pretty well," Schofield said. "The fourth game, I just went over to the left and my technique -- I kind of let it slip away during that game. On the right side I felt really good."
You never want injuries, but it's time to find out what Schofield has. As he said Friday, he was a third-round pick; it's time to start proving his worth. Clearly, there's a chip on his shoulder, and that mentality is a good starting point. Now he must deliver.
Kubiak is a "run first" coach who has been emphasizing his focus on the run but Denver is at the bottom of the list when it comes to running yards. Where is the disconnect?**
The idea of a "disconnect" is a bit of flawed notion, because it assumes that something will succeed just because it is a point of emphasis.
Football -- and life itself -- do not always work this way. Just because you want to and put the time and energy into it does not mean that you can, at least not at first.
The emphasis on the running game was about building an offense that could be effective and versatile in December and January; this part of the Broncos' attack was not going to be at optimal efficiency right away because of the scheme tweaks and the personnel changes up front. That's one of the reasons why players and coaches alike stressed that it was a "work in progress."
"When you're evaluating the running game, we're talking about being better up front, getting more creases, doing that. That's a coaches' thing," Head Coach Gary Kubiak said. "We've got to create some space for these guys. Then you go to the backs and you say, 'Sometimes you've got to create your own space.'"
The Broncos can find balance in the long term, but it might have to come with the pass setting up the run, which in turn would open up the play-action game. Ty Sambrailo's shoulder injury might set the Broncos back a bit, as every repetition he receives helps him get up to speed.
I don't think it is at all, especially when you consider that you're talking about a player who hasn't seen a snap since the preseason opener. Although there's no way to know whether he would suffered the same kind of injury as he incurred (broken right hand), his lengthy injury history -- which includes almost as many games missed (34) as played (40), including playoffs, that trend isn't promising.
If the Broncos had kept Thomas, Owen Daniels -- and perhaps Virgil Green, as well -- are not on the roster. You're down the rabbit hole of possibilities, but I would argue that not only are the tight ends not much of a factor in the struggles, but that the Broncos are probably in better shape at tight end now than they would have been otherwise.
I don't see it happening again, for two reasons:
Shane Ray will continue to rotate in and see repetitions -- sometimes in close-and-late situations, as we've seen the last three weeks -- in place of DeMarcus Ware. Although Ray has some growth in front of him in terms of broadening his array of pass-rush moves and being stouter against the run, he will get chances.
Working at outside linebacker keeps Ware from getting caught up in heavy contact in the box as often as he did last year when he was a hand-in-the-dirt defensive end. Ware said that the position was "a lot easier on the body," and I expect that will manifest itself in November and December, assuming general good health.
---
Submit a question for the next Mailbag!
The analysis, opinion and speculation in this story represents that of the author, gathered through research and reporting, and does not necessarily reflect the opinion of the Denver Broncos organization.