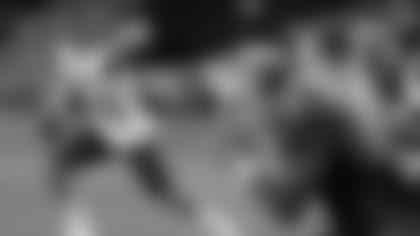 Last Mailbag you suggested the Broncos could move up if a QB fell to the 20s...but we have heard, and seen, that this draft is incredibly thin at QB and none of the first-round guys are really first-round talent, at least compared to most years. Why, when we need help elsewhere, wouldn't get more O or D line (or an ILB) help rather than reach for an average QB?
Well, that's what some people say about the quarterback class. I disagree with that assessment.
Christian Ponder in 2011 ... that's a reach for a first-round quarterback, because his ceiling wasn't very high. Paxton Lynch is a projection, but he has a much higher ceiling. Jared Goff, Carson Wentz ... these are legitimate first-round quarterback prospects in any draft. If either of them drop into the middle of the first round -- and I don't expect that to happen -- they offer excellent value.
Further, another reason to take a quarterback in the first round, even late, is the fifth-year option on first-round picks. If the quarterback you select in the first round works out, then you have five years of cost control and having your quarterback at well below market value, which gives you a chance to focus resources toward other positions.
The depth at defensive line makes it possible the Broncos could find help in future rounds, although it's definitely a possibility for the first-round pick. Safety is also a need I would place above the offensive line after recent free-agent pickups, although I expect an O-lineman or two on the second or third days. And the Broncos' recent record of identifying inside linebackers via waiver claims, street free agents and late-round/undrafted additions offers evidence they can find reinforcements later in the draft.
Who do you think will have the biggest offensive breakout next year?
How far will the defense fall from the mercurial heights of last season? And how will we stop teams from running between the tackles? Inside linebacker is an obvious area to upgrade.**
They'll stop teams inside the tackles the same way they did last year. Todd Davis is a capable replacement, and the Broncos have the option of using him as the strong-side inside linebacker and moving Brandon Marshall to the weak-side inside spot, as they did last December against the Raiders when Trevathan was out. Corey Nelson and Zaire Anderson are also options. Just as they trusted Marshall to replace Trevathan in the 4-3 in 2014, they'll trust one of the young players to step up and replace him in 2016. Don't be surprised to see them add an inside linebacker in the draft, but if they don't, they're comfortable with what they have.
As for how far the defense will fall ... some regression is likely, but no one can accurately predict just how much. The Broncos got lucky last year with injuries; first-teamers on that side of the line of scrimmage combined for just 16 games missed, six of which were because of suspensions. How they replace Malik Jackson will be key; right now it appears it will be a collaborative effort, and will probably involve at least one draft pick. Another key will be finding at least one young safety in the draft who can provide quality depth, with David Bruton Jr. and Omar Bolden having moved on in free agency.
It will be up to the coaches to a) help the defenders keep their nasty, chip-on-the-shoulder edge and b) account for the adjustments other teams will make after studying the Broncos' defense during the offseason. Denver's defense could be better statistically, but not as dominant when it counts; just look at the 1986 Bears as an example, because when they met Washington in the playoffs, their blitzes were exposed by a home-run threat quarterback (Jay Schroeder) and receivers, led by Art Monk, who could win one-on-one matchups.
It would seem there are a few good sleeper QBs that should be on the Broncos' radar for the draft in Kevin Hogan (compares to Rivers) and Jeff Driskel (fastest QB in the draft). What do you think the chances are they will go after one of them in rounds 4 - 6?**
I expect they will add at least one quarterback from the draft, no matter what happens at the position regarding a possible veteran acquisition in the coming weeks.
I'm intrigued by Hogan. Of the quarterbacks in this draft class, he is the best decision maker. What he needs is work on his feet, which leads to issues in his delivery. He doesn't get set as well as you'd like; he takes a wide stance, and has an elongated delivery. He will need to tighten that up to be effective in the NFL. I doubt he'll ever have an orthodox delivery, but if he can trim it, he will have all the tools needed to be effective at the next level, given time and a chance to adjust.
I don't have the same optimism about Driskel's potential; given the disparity in his play between Florida and Louisiana Tech, I think he may be a product of a system and a lower level of week-to-week competition. A 23-to-18 touchdown-to-interception ratio and 59.4 completion percentage at Florida does not fill me with confidence. Further, being the fastest quarterback means bupkis. Just take a look at the fastest quarterbacks in the 40-yard dash at the last 10 Combines, which includes some big names, but also some that are long since forgotten:
2015: Marcus Mariota
2014: Logan Thomas
2013: Geno Smith
2012: Robert Griffin III
2011: Tyrod Taylor
2010: Jarrett Brown
2009: Pat White
2008: Josh Johnson
2007: Jared Zabransky
2006: Reggie McNeal
There are some standouts in there, but also some that went nowhere.
I think that the Broncos should look to the second level of QBs. Cardale Jones is my favorite but is he accurate on the move? How about the QBs from Stanford and Arkansas?**
Jones struggles on the move, and the biggest obstacle he will have to overcome is his struggles on the move and when the protection breaks down. There's a lot of potential there, but he looks like a mid-round pick. For Hogan, please refer to my previous answer. I like Brandon Allen's ability to throw on the move and execute the kind of play-action bootlegs that the Broncos' offense demands, but the small hands (8 7/8 inches as measured at the Combine) are a concern.
Do you think that Ray Rice would be a good backup to C.J. Anderson? One they both have similar running styles and two Denver could pick him up for a cheap rate if not at league minumum contract. Especially if Ronnie Hillman gets picked up under free agency.
Rice has a lot of wear on his tires -- 1,799 career touches in regular-season play -- and his per-carry average declined in each of his last three full seasons, to 3.1 in 2013. Further, I think the Broncos are better served going for a younger and fresher back who doesn't have domestic violence on his resume.
What is the status of Omar Bolden? He is excellent on special teams and could help replace Bruton and he adds depth to the safeties, something we are lacking at the moment.
He signed with the Chicago Bears last week. Look for the Broncos to focus on the draft as a source of safety depth, especially given the lack of cap space.
Bennie Fowler began to get some solid playing time later in the season. What are the chances that we sign him back?**
100 percent. He's an exclusive-rights free agent, so it's Denver or nowhere for him. He will be back.
Hi Andrew! Could you shed some light on the possibility of the stadium being renamed again?
As long as Sports Authority continues making its annual payments for naming rights, there is no reason why the stadium name would change. Obviously, given its current bankruptcy filing, the company and its assets could be bought; a buyer would assume all contracts, and that could lead to a name change, but if the current situation remains, the stadium will continue to be known as Sports Authority Field at Mile High.
---
Submit a question for the next Mailbag!
The analysis, opinion and speculation in this story represents that of the author, gathered through research and reporting, and does not necessarily reflect the opinion of the Denver Broncos organization.