First of all thank you for keeping Broncos Nation informed and providing great insight year-round.
Instead of maxing out our salary cap for Cp;om Kaepernick, who has had three surgeries and is still not playing at the level he is getting paid for. Would it be wiser to just go young and draft a QB or two to compete with Sanchez and Siemian?
If Clady is no longer on the team, it would leave cap room to sign Brandon Marshall to a long-term deal. We can also help get some depth at other positions with maybe Knile Davis (RB), John Kuhn (FB), and Tony Moeaki (TE).
Your idea re: quarterback might be the most cost-effective situation, and if you nail the pick of a quarterback in the draft, it certainly helps for the long term. But it comes associated with risk: What if the drafted quarterback fails? Further, if Siemian isn't ready and Sanchez gets hurt, then what do you do? Whether it's Kaepernick or an experienced veteran, the Broncos could probably use another seasoned QB.
Davis isn't the best scheme fit; although he can go straight ahead as well was anyone -- and that serves him well on kickoff returns -- he doesn't possess the quick cutting ability that you would like for a running back in the Broncos' scheme. Moeaki is intriguing, but Head Coach Gary Kubiak talked last month about perhaps bringing back Owen Daniels, and if he wants to return, he might be the best option. Kuhn has a lot of wear on his tires, and I think the Broncos should look for a younger, fresher fullback.
But you are right about Marshall, and getting him signed to a long-term deal is a priority for this year, especially after losing Danny Trevathan. Marshall is seen as an ideal three-down linebacker and a potential team leader. He is probably the No. 2 long-term priority right now behind Von Miller.
Thoughts on Denver bringing in Mike Vick? He's a good veteran that could not only come in and help if needed but also help a rookie that we draft.
I think Vick is done. He wasn't all that effective in 2015; his rating was a modest 79.8, and he was sacked once every 7.6 dropbacks, a ridiculously high rate. He turned the ball over once every 32.0 touches.
Including pass attempts, sacks and rushes, he averaged just 4.34 yards per touch -- 1.74 yards fewer than Peyton Manning last year, 1.88 yards below the league average, and second-lowest among the 48 quarterbacks who had at least 90 total rushes and pass plays last year. And Vick had outstanding weapons at his disposal. Compare that to Cleveland's Josh McCown, who did not have the array of targets Vick had -- including the league's best wide receiver in Antonio Brown -- and yet averaged 1.84 more yards per play.
Are the Broncos willing to trade Aqib Talib? I've heard rumors of Denver trading him to free cap space.**
There's no indication that trading him is in their plans. He's getting paid an elite salary, but he's delivered elite play.
Further, you don't maintain an elite defense predicated on coverage and pressure by dealing one of the primary reasons behind his success when he is on a perfectly reasonable contract for his skill set and production. Unless an offer comes in that knocks the Broncos' socks off, Talib will be in orange and blue this season.
Do you think Phil Taylor will be a good fill in for Malik Jackson? .... Possibly be even better against the run inside?
Not particularly. Taylor is 50 pounds heavier than Malik Jackson, with a completely different build and frame. His size and skill set dictates his use as a nose tackle, not as a three-technique defensive end, and he will be in the mix with Sylvester Williams and Darius Kilgo.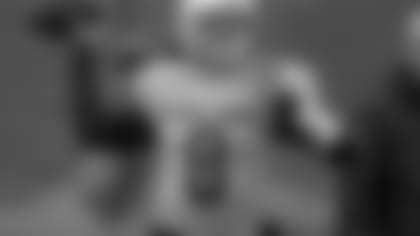 The last starting quarterback we had with an unorthodox and elongated delivery (initials TT) is no longer playing in the NFL. Why do you think Kevin Hogan would be different?
Also, you mention that the Broncos could trade up into the mid-20s. What kind of package (using only draft picks) do you think that would take? How about into the mid teens?
A move into the mid-20s would probably require at least a third-round pick. To get to the late teens, the Broncos would probably have to package the No. 31 and 63 picks; a move higher than that would take a sweeter offer.
Hogan delivers the football with much more zip than Tebow, and while both have unorthodox deliveries, Hogan reads a defense quicker, and also gets the football out quicker. Hogan also projects better to running a pro-style offense than Tebow from a cerebral perspective, and should be able to go through his progressions and get to the second read better.
What are the chances Denver could trade up to get Jared Goff? As a Broncos fan here in Northern California, I had the pleasure of watching Goff play live in high school and from the moment I first saw the kid, I've suspected future NFL success, hopefully with Denver! Is that a possibility or a pipe dream?
Pipe dream. More and more, I don't think he lingers beyond the first seven to nine picks, and the cost of the Broncos moving up that far would likely be prohibitive.
---
Submit a question for the next Mailbag!
The analysis, opinion and speculation in this story represents that of the author, gathered through research and reporting, and does not necessarily reflect the opinion of the Denver Broncos organization.