Since this question was submitted, Laurinaitis signed with the Saints, so this notion has evaporated. But it was never a possibility to begin with.
Laurinaitis puts up big tackle numbers, but a lot of them are from behind, and he doesn't have the speed he displayed when he first broke into the league. I don't think he's better than young players who have been in the system and whose progress the Broncos like: Todd Davis, Zaire Anderson and Corey Nelson.
Whenever possible, you want to show faith in the players you developed to serve as internal replacements, and this is one area where that faith appears more than justified. With Danny Trevathan and Brandon Marshall, Denver's personnel department has shown terrific acumen at finding inside-linebacker prospects, and they appear to have the next ones in line ready to go.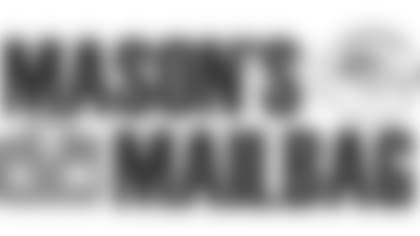 Would Arian Foster be a good fit for Denver, since he had his best years under Kub's system?
Good fit? Yes. But he would need to be part of a running back collective, and not a primary back. He's attempting to return from a ruptured Achilles tendon; no NFL running back has ever returned to his prior level of performance after that injury.
It would not surprise me if Foster becomes the first; he has the work ethic and resolve to accomplish this. But you could not go into a season relying on him as the primary or even No. 2 option; you would want to go in with others, and if Foster flourished and proved himself healthy, he could handle more of the load than initially planned.
Have the Broncos thought of possibly trading for Mike Glennon? He has posted some decent numbers whenever he was given a chance with the Bucs and would seem to be a viable quarterback option.
Given that virtually all possibilities are discussed among personnel executives and coaches, I'm sure the notion has arisen at some point. However, Buccaneers general manager Jason Licht has told multiple outlets, including PewterReport.com, that there are no plans to trade Glennon, because they value having him in relief in case Jameis Winston is injured.
If we don't find another quarterback before the draft who will Denver target preferably Connor Cook or Paxton Lynch? In my opinion Cook is a more viable option with his leadership ability as well as his ability to read a defense. What are your thoughts?**
Cook's leadership ability is actually the primary aspect of his game that is being questioned, not so much his ability to read a defense. Although the hubbub over not being a captain is overblown -- MSU had a council of 12 players that selected captains from game to game -- it's a topic that isn't going away, and probably will not until he gets into an NFL locker room, settles in and begins learning the nuances of the pro game, both on and off the field.
Cook is more of a finished product. Lynch is less refined and comes from a scheme that will require a bigger transition, but has greater upside and a better feel for the pass rush, with his ability to escape it and still get the pass downfield.
Of the two, I like Lynch better because of his potential and feel; I have him ranked third among quarterbacks behind Carson Wentz and Jared Goff. Cook is fifth on my list, with Mississippi State's Dak Prescott fourth.
What about Cody Fajardo, who played at Nevada a few years back? Do you think he would fit in this offense or at least give Siemian and Sanchez some competition?
Fajardo did not impress in his stint with the Raiders last summer. He spent the months that followed his release on the practice squad of the CFL's Toronto Argonauts, where he remains. If he couldn't advance beyond a CFL practice squad last year, he's not going to be a viable NFL prospect at this point in time.
Why don't the Broncos look at a former BSU Bronco -- Kellen Moore? Not a big arm, but cool under pressure, reads a defense like a book, smartest non-starting qb in the NFL. Just needs a chance -- Bronco defense and Kellen Moore = another Super Bowl win. Look at the improvement in a couple of games with Cowboys -- knows how to find the right receiver -- will learn quickly to limit mistakes -- just flat-out a winner and a leader.**
"Not a big arm" is the key part of your statement. He still struggles to complete outside passes near the sideline and far downfield, areas that jumped out at me when I watched him at Senior Bowl practices in 2012. He appears to have found a good spot as a potential long-term backup with the Cowboys, but I don't see his ceiling much higher than that.
There is also no indication that the Cowboys are making him available, and to be honest, the notion of winning the Super Bowl with Moore -- who had a negative touchdown-to-interception ratio last year, did not complete 60 percent of his passes and posted a 71.0 rating -- is far-fetched, at best.
Regarding Tim Tebow, do you think that the fact that he had no benefit of a proper training camp during the year of the NFL players strike played a role in his struggles with the game at the NFL level?**
He had a full training camp as a rookie in 2010, and I don't think the truncated 2011 offseason had an impact. His biggest problem, in my observation, is that while he worked hard, he did not work smart. He needed less time in the weight room and more time in the classroom and working with receivers.
Some of this was his own doing; some of this was not. For example, after he was traded to the Jets, he bulked up to 250 pounds from his previous weight of 240. Although he said the Jets told him to put on more weight, this was detrimental to his growth as a quarterback.
He didn't need to be bulking up. If anything, he needed to drop weight. What he needed to focus on was accuracy, footwork, tightening up his delivery and learning how to read defenses better and get to the second read. The moment he reported to Jets camp at 250 pounds, he ceased to be a viable quarterback prospect and was a novelty act.
And for those thinking that he is a more viable quarterback than Mark Sanchez, please note this: Sanchez was much better than Tebow with the Jets in 2012, and was much better in 2015 in Philadelphia. It's way past time to move on from this topic.
I read something a couple of months ago about a potential trade for Joe Thomas, the Cleveland OT. Should this trade have occurred, how would that have changed the Broncos' campaign to the Super Bowl.
I think they would have still won the Super Bowl, but would have been in an even greater cap crunch than they are right now and would have been down at least one high draft pick in this year's draft.
Sometimes the best deals are the ones you don't make.
---
Submit a question for the next Mailbag!
The analysis, opinion and speculation in this story represents that of the author, gathered through research and reporting, and does not necessarily reflect the opinion of the Denver Broncos organization.