Since a fan brought up the issue of uniform discussion last week, let's keep the focus entirely there for the moment.
Mile High Memories (@MileHighMems via Twitter)
#AskMase When the Broncos switched uniforms/logos last time, what was the impetus and behind-the-scenes process that happened -- and why typically do teams do it and who usually makes the call?
Each team that undertakes a uniform makeover goes about it in a different way, but ultimately, no team's uniform is made permanent without approval from team ownership and the National Football League.
In the case of the Broncos' change in 1997, there was a desire to have a more dynamic, modern look that could strike a chord with a younger generation to help grow the fanbase. They worked with Nike, the uniform supplier then and now, to craft the design.
Owner Pat Bowlen said the following, published in The (Colorado Springs) Gazette-Telegraph, when the uniforms were unveiled:
"The first question I'm asked is, 'Why?' The best answer is I've always wanted this organization to be No. 1 in everything. That's my mission [and] the organization's mission. And I felt playing in uniforms that essentially have been the same for 30 years was not moving in that direction. I felt we needed a change."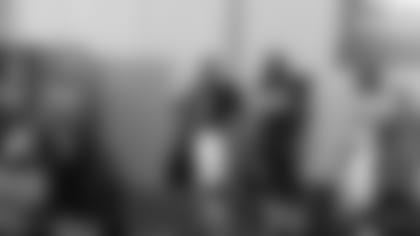 Denver's reasons were different from other teams. The Broncos were successful in their old look. But another team that changed in 1997 was not. In that light, you can compare the Broncos with Tampa Bay, another team that made sweeping changes in 1997. The Buccaneers overhauled their look from orange with red trim to red and pewter with hints of orange, while changing their helmet logo from a winking cartoon of a pirate to a red flag held aloft by a sword. (The Bucs later made public some of the rejected helmet designs, which sit in a display at their headquarters in Tampa.)
Tampa Bay made its change after 14 consecutive losing seasons. Other teams such as New England, Seattle and Atlanta had histories defined by frustration. That spurred a desire for change, since the old looks didn't stand for success.
In 1997, Denver's new look also might have helped attract at least one crucial component of the championship equation: defensive end Neil Smith. He joined the Broncos in 1997 after spending nine seasons with the Kansas City Chiefs.
"I just wasn't feeling it with the old blue and orange," Smith said during a 2017 interview on Orange and Blue 760. "It looked like the [horse on the helmet logo until 1996] was sneezing. It just wasn't right, man."
Then Smith saw the new look.
"I'm like, 'Y'all are going to those uniforms?'" Smith said. "And I looked at them and I'm like, 'Wow, man! That is bad-ass! I'm like, 'OK, let's do this, then!'"
Smith wasn't the only one who was impressed. On February 4, 1997 -- the day the uniform set was unveiled -- then-safety Steve Atwater told The Gazette-Telegraph, "I think a lot of fans have been prepared to hate the change. But now that everything is available for everybody to see, I hope people will look for themselves and make up their own mind. I think it's a change for the better."
Atwater added, "Navy blue looks meaner than orange."
Harald Hasselbach, a defensive lineman for the Broncos at the time, also told The Gazette-Telegraph that the then-new uniforms gave the Broncos "more of an imposing look ... it just looks more intimidating."
Since then, the Broncos have introduced an orange jersey to the ensemble. It made its debut in 2002, and after occasional use until 2011, became the primary home jersey in 2012 -- which was a reaction to fan outcry that hit a fever pitch in 2010, when the Broncos announced the intent to return to orange jerseys for most home games.