ENGLEWOOD, Colo. --For nearly a year now, Brandon Marshall and Danny Trevathan have been side-by-side, moving step for step.
They rehabilitated from their offseason surgeries together. They pushed each other. They studied their new roles in Wade Phillips' 3-4 defense together. They watched OTAs and the early practices of training camp from the sideline together.
And finally, they played together -- and played brilliantly.
You can't mention one without the other. Their sharing of the Broncos' Ed Block Courage Award for 2015 is a unique and appropriate cap to a year in which they overcame their injuries and returned to their previous form in large part because they could lean upon each other.
This is the 32nd season in which all teams have selected winners of the award, which often goes to players who overcame injury or other trauma and inspired others in the process. But no team has ever selected multiple winners for a single season until now.
Neither might have come as far without the other.
"We were both already motivated, but to have each other there just gave us that extra motivation going in each day with each other," Trevathan said. "He was a good wing partner for me.
"We pushed each other," Marshall added. "I think we pushed each other a lot because I would see him, how he was doing, and if he was ahead of me I felt like in his progression, I would try to exceed that. I think he did the same thing.
"Sometimes we would talk because we'd have down days where my foot was hurt and his knees were hurt, but we'd talk to each other and we'd say, 'Let's just push through. Let's push through. Let's get through this and let's work hard so we can be the best duo in the league.'"
They have a strong case for being just that. As the Broncos' two leading tacklers, they were a massive part of the reason why the Broncos led the league in yardage per carry allowed, given how often they had to take on opposing guards per the design of Phillips' scheme and the roles inside linebackers in it must play.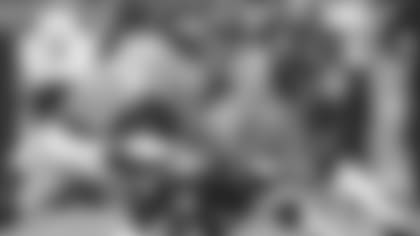 Their on-field cohesion took root during the offseason, while they watched teammates work at the positions that would be theirs by Week 1.
"We would on the sidelines in OTAs and training camp, and we'd talk about this: 'Okay, we'll do this when we're in,' you know what I mean, or 'We could do this.' We had that kind of chemistry," Marshall said. "I think we just knew that."
By watching and talking during the spring and summer, they developed a sixth sense about each other's roles, to the point where only a gesture or a nod conveys what once took a sentence.
"A lot of times, even now, we don't even have to say anything. If we're working together, we know a certain look and we don't have to say anything," Marshall said. "We just know and it just happens. I think us rehabbing together and working together really helped us build our chemistry."
Not only did their communication improve, but their respect for each other deepend.
"To work with him in the offseason, I kind of gained a little edge. I got to see him off the field a little bit more," Trevathan said. "I got to be with him when he was hurting, crying and screaming because you have to go through that treatment.
"Seeing him fight through stuff like that, it made me respect him even more. When you have respect and have the attitude that we both could be one of the elite in the NFL, great things happen."