DENVER --There is one truth evident about the Broncos' defense through four games of the 2015 season:
There's never a bad time to attack.
That philosophy provided a series of jabs, then finally the knockout punch in perhaps the Broncos' toughest win of their 4-0 start, a 23-20 triumph over the persistent Minnesota Vikings on Sunday at Sports Authority Field at Mile High.
The Broncos don't just attack when it's convenient. They do so from start to finish -- with the emphasis on the end.
After all, when you think of most teams' late-game defenses, you often think of three-man rushes, soft coverages designed to concede underneath passes and general "prevent" looks.
These hoary notions don't apply to Wade Phillips and his fast, deep, aggressive defense.
Sure, he might rush four men on a few plays in a row; he did that on five consecutive snaps to open the final defensive series, although one might have been a five-man rush if Adrian Peterson had not come forward to begin a short route against David Bruton Jr., who was starting to approach the pocket.
But you never know what sorcery the Broncos' defensive Dumbledore might conjure next.
Phillips began Sunday's game with a 3-5 alignment that included Todd Davis as a third inside linebacker, which flooded the box and provided an indication of what the Broncos knew they had to do first and foremost: clog every lane through which Peterson might gallop.
The 3-5 is where the game plan began, and it set the tone for a defense that corralled Peterson until his 48-yard run through a gaping hole on fourth-and-1 in the fourth quarter, a play that Marshall said will make the defensive "sick" to re-watch it.
Phillips' tactics began with an unusual alignment. They ended 37 seconds before the final gun with the kind of aggressive call that few coordinators make, when he sent T.J. Ward and Brandon Marshall after Vikings quarterback Teddy Bridgewater, punctuating a five-man rush.
"That's a hell of a call, man," said Marshall, the Broncos' leading tackler -- again -- who always smiles at the mere notion of being asked to blitz.
"Wade is a tremendous defensive coordinator. He knew we had six sacks up to that point, and he's like, 'OK, we're going to come after him. We're not just going to sit back and play coverage,' and we did."
Phillips' calls on the previous plays set it up.
"That was the perfect opportunity," said defensive end Antonio Smith. "They were chipping D-Ware and Von, trying to give Bridgewater a little more time. So I think the only logical thing to do was to change it up on them."
As Ward and Marshall attacked, Phillips dropped Ware, the AFC's Defensive Player of the Month, into coverage. Ware added another sack in the first quarter to boost his season total to 4.5, but when the Broncos needed a pass rush the most, he moved away from the line of scrimmage to Bridgewater's left.
All that was left was for the downfield coverage to hold up. Two plays earlier, Aqib Talib had lost his footing defending Vikings wide receiver Mike Wallace, who capitalized by getting out of bounds with a 17-yard reception that toed the Vikings to their 47-yard-line, putting them just 13 yards away from a plausible game-tying field-goal attempt from Blair Walsh.
But on this play, the secondary held firm. Bridgewater had two options: Peterson veering toward the right flat and Adam Thielen on a short crossing route representing his short option. But Ware was right there on Thielen, waiting to pounce if Bridgewater tried to throw it to the second-year wide receiver.
"D-Ware was right in front of him," Smith said. "It's a sack every time."
Ward got the sack and forced the fumble, Von Miller recovered, and the Broncos' undefeated start remained intact.
There was no more appropriate end to a game in which the Broncos racked up seven sacks -- their highest single-game total in 19 years -- and became just the second team in the last decade to log 18 sacks in their first four regular-season games.
Two of the sacks belonged to Ward, who blitzed four times Sunday and has benefitted from Phillips' aggressive use of him in the box. Phillips' primary sub package has become a dime personnel grouping with Bradley Roby and David Bruton Jr. as the extra defensive backs. Bruton and Ward take turns lining up in the box, with Ward sometimes aligning himself just wide of the outside linebacker.
That's how he got his first sack Sunday, blitzing from Bridgewater's left along with Ware. Vikings left tackle Matt Kalil had to choose one or the other, and he blocked Ware, leaving Ward free to bring down Minnesota's quarterback
In one day, Ward matched his previous career high for sacks in a season.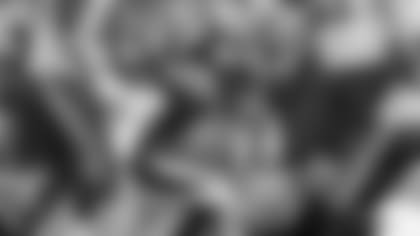 "Coach knows he's a great blitzer, so blitz him," cornerback Chris Harris Jr. said. "That's what he's doing. He's calling his name, and they can't block him.
"We saw it last year, but we didn't get him a lot of blitzes. But now we're starting to get him going, and you see what he did today."
And it provides yet another direction in which Phillips can wave his magic wand. Nine different Broncos hit Bridgewater on Sunday, including backups like Shane Ray, who notched his first career sack, and Shaquil Barrett, whose pressure one play before Ward's strip-sack fumble put the Vikings into second-and-10.
"It's a team sport and that's how we play on defense," Ware said. "Everybody has that will and the want-to to get out there and make plays, and we have some playmakers on defense. Like T.J. made a couple of plays at the beginning. Von, me, Malik [Jackson] -- it was a lot of guys out there playing and really wanting it.
"To see how everything is coming together now, we're coming together at the right time."
It wasn't perfect, of course. Peterson's run will stick in the defense's craw for a while. And despite the win, you didn't have to look far in the Broncos' locker room to find a defender frustrated with the unit's performance, because as daring as the final blitz call was, the players believed the game should not have been in doubt in the final moments.
"That's why we're frustrated, because it should have come down to that at all," Harris said. "We had a lot of situations where we could have just easily spread out that lead.
"But it's good to go through some things like this, some fights like this, to build up our mental toughness, because we always feel like we can win a game."
And why do they feel that way? Because even though they'll get beat on some plays, the Broncos know three things: they can always make up for it, it's always a good time to make the offense uncomfortable, and there's never a wrong time to attack.
The Broncos held off the Vikings as the defense once again forced a turnover to end the game.