ENGLEWOOD, Colo. --One All-Pro selection wasn't enough for Chris Harris Jr.
The seventh-year veteran finally broke through and earned a place on the first-team All-Pro squad last year after two seasons as a second-team choice. Between those honors and three consecutive Pro Bowl appearances, his credentials confirm his status as one of the game's elite cornerbacks.
But he wants more. He knows that if he continues to receive those honors, Denver's pass defense has a good chance at maintaining its lofty perch as one of the best units of this or any era.
"I want to keep getting All-Pros -- to keep stacking them," he said Monday. "I know if I'm playing at an All-Pro level, our defense is playing [well]. That's really what it comes down to. If I'm playing bad, we're not winning a lot of games and we're definitely not No. 1 in pass defense."
Just two cornerbacks in Broncos history have earned consecutive first-team All-Pro nods: Louis Wright in 1978-79 and Champ Bailey from 2004-06. If Harris is to join them, he might use a different collection of duties to get there.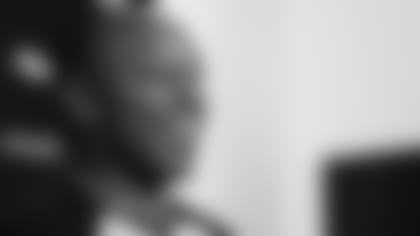 That could start with increased involvement in the pass rush. From 2012-14, Jack Del Rio, then the Broncos' defensive coordinator, made occasional use of Harris as a blitzing slot cornerback, using his inside alignment to force hurried throws. In 2012, Harris notched 2.5 sacks, including one that brought down Carolina quarterback Cam Newton during a 36-14 win.
Over those three seasons, Harris notched 16 quarterback hurries and deflected two passes at the line of scrimmage according to ProFootballFocus.com. He handled that duty well, and wants to do it again.
"Hopefully I'm blitzing more," Harris said. "Hopefully I get some more sacks like I had my first four years. I was very active in the run [defense] and getting sacks and playing the ball. Hopefully I can be able to do it all this year."
It is not something Defensive Coordinator Joe Woods would ask Harris to do often -- or even once a game. But it is a change-of-pace option that fits in with Head Coach Vance Joseph's stated desire to change up the looks and tactics of the defense, particularly early in contests.
"They [opponents] would come out with their best first 15 plays, and they were getting us. We were starting out slow," Harris said. "Now, I think Joe and [the defensive coaches], they're going to be way more prepared going into the game, because these teams, they keep repeating the same types of plays versus us, so now we're going to be well-prepared for that, and we'll be able to start faster -- and we've got a lot of new stuff, too."
That new stuff will include more disguised looks and coverages, Harris said.
"We're doing a lot of things that we've done in the past, but we've kind of added more wrinkles, taking it to another level," Harris said. "With Wade [Phillips], we were on Level Two on a lot of things. Now we're on Level Three on some coverages."
It helps that the Broncos' top five defensive backs have been together for three seasons. Harris, Aqib Talib, T.J. Ward and Bradley Roby are preparing for their fourth season together, with Darian Stewart joining the group in 2015.
Instead of starting from zero, the group can build off of leading the NFL in pass defense on a per-game and per-play basis in each of the last two seasons. The secondary is ready for doctorate-level concepts.
"We're able to handle that. ... To be able to have that chemistry, we can learn very fast together," Harris said, snapping his fingers for emphasis.
This isn't to say the secondary will abandon what it does best. Its cornerbacks' ability to flourish in man coverage frees up the rest of the defense to attack the quarterback and prevent plays down the middle and the seam; this will not change.
But a few new wrinkles that use the secondary's cohesion and skills can give opponents a bit more to ponder in their game-planning. That can force more passes in the direction of Harris and Aqib Talib. That leads to more opportunities for game-shattering plays ... and a chance for the "No-Fly Zone" to enhance its reputation as the game's best secondary.