HIGHLANDS RANCH, Colo. --As Saturday's work for the first-team offense demonstrated, it might take a little while before all the components function as intended.
The holding penalties and dropped passes that short-circuited the Broncos' efforts during their four fruitless drives to start the game might persist, but as former Broncos RB Lance Ball learned in 2012, eventually a Peyton Manning-led offense is going to click.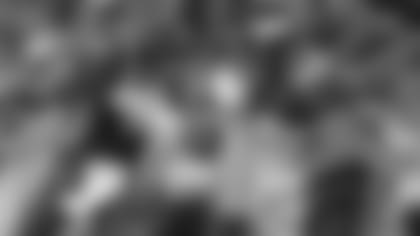 "I know they got off to a slow start [Saturday], so I know they're frustrated -- especially Peyton and the guys," Ball said Sunday as he joined Broncos TV for its final Training Camp Show at Buffalo Wild Wings in Highlands Ranch.
'You know, the offense takes time, and not until Week 3, Week 4 [do you] really see it click and really see all the pistons turning in the engine. So it's just patience and going back to the drawing board."
That's exactly what happened in 2012. There were struggles: a giveaway-plagued first quarter in Atlanta in Week 2, a leaky pass pocket in Week 3 against J.J. Watt and the Texans, a combination of issues in a Week 5 loss at New England, and a first half of turnovers and turf monsters at San Diego in Week 6.
But it was against the Chargers that everything turned around. The offense found its groove in the second half. With the aid of an opportunistic defense, the Broncos scored 35 unanswered points to rally from a 24-0 deficit, and would not lose again for nearly three months, winning 11 consecutive games by an average of 15.5 points.
Ball helped that team with his versatility on offense and special teams, but he also had a key role in helping the transition, since he played for the Indianapolis Colts with Manning and then reunited with him in 2012.
In three years with the Broncos, Ball saw four iterations of the offense as it transformed from the pass-intensive attack that sputtered in 2010, to an attempt at a balanced offense early in 2011, to the pivot to the ground-intensive attack after five games that year when Tim Tebow became the starting quarterback, to Manning's 2012 arrival and the work that went into translating the concepts of the offenses he ran in Indianapolis into Denver's nomenclature.
"Obviously, it was a big difference between the Tebow years and when Peyton came. It was definitely a learning experience," Ball said. "Once we just got things going and just practiced, it became natural. That's one thing that they [the coaches] harp on, is getting in the playbook and knowing your stuff."
The difference between last year's offense and this year's offense is nowhere near what it was between the attacks led by Tebow and Manning. So Ball knows the offense -- and Manning -- will figure it out.
"[Manning] definitely has his playbook. He has his certain plays and things that he likes to do in the offense. So it's kind of interesting to see how different schemes intertwine with his staples," Ball said. "It's very interesting. And Peyton is a guy that definitely wants to learn. He also wants to grow and be great. I think it's awesome."
Here's what else Ball had to say:
On the energy the running backs in the room feel when you know that running the ball will be the emphasis:
"All the running backs are smiling! But, yeah, I think it's a staple. You have to have a great running game, a solid running game throughout the whole season to be successful and win. You have to hunker down: O-line, quarterback, running backs, receivers have to block, too. Everybody has to get pumped up. It's something that you have to do. You want to be respected in the passing game, as well. It just goes hand in hand."
On how much a commitment to the running game helps breed success, like in the 2011 season, when the offense went run-heavy after five games and finished the year atop the league in rushing:
"It's a staple. You can talk to [Running Backs] Coach [Eric] Studesville; he harps on it every day. You've just got to work on it and trust it and trust your reads and get it going. Those guys -- C.J., Montee, Ronnie -- they hopefully know what to do. Obviously it comes through experience and everybody coming together, but, yeah, you've just got to trust it. Those guys [Saturday] were just hitting the holes hard, and one or two [big runs] are going to pop."
On Ronnie Hillman's performance this preseason:
"He definitely put on some weight, too. ... He's definitely coming into his role, as well. Ronnie definitely has to learn the game, learn the offense and he'll be comfortable. I think running back is a natural position. It's a special position. He knows what to do out there, and he has Coach 'E' (Studesville) coaching him. What a great guy to play under."
On the impact the running backs are having on special teams:
"When I was coming up in the league, special teams was definitely a big part of my career. So, yeah, that's big. As a running back, you have to be versatile and able to do a lot of things on the field -- especially when there's only going to be three guys that suit up [on game days]. It's great; they have to get a taste of special teams."
On how he watches games on Sundays now:
"Sometimes I have a couple of TVs hooked up, fantasy going on. I was always a fan when I was playing, and I'm even more of a fan now. I'm just excited to watch every game."
On how his fantasy teams have done:
"I finished second place last year. But yeah, it's totally fun. I mean, now, since [Green Bay WR] Jordy Nelson got hurt, that took him out of my draft, but, yeah, it's fun."