INDIANAPOLIS --The only negative consequence of making a Super Bowl is the short turnaround between the end of the season and the start of the new league year.
Although the personnel department has already completed its free-agent evaluations, the coaches will not get into free agents until next week after the NFL Scouting Combine concludes.
"We actually did not start the free-agent part of it [yet], we'll do that when we get back." Head Coach Gary Kubiak. "John [Elway and his staff] -- they're way ahead of the coaches it from that standpoint, but right now, our focus is strictly here on these young kids."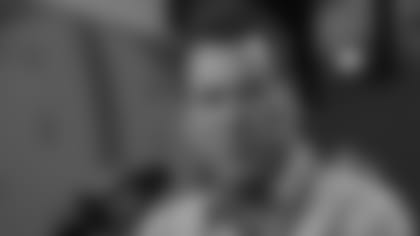 CLADY UPDATE:Left tackle Ryan Clady continues his recovery from the torn anterior cruciate ligament he suffered nine months ago at the start of OTAs.
Although Kubiak did not elaborate on Clady's potential role, the Pro Bowler is "doing very good, and he's looking forward to getting back and playing," Kubiak said.
"John [Elway] and I talked about him the other day; I'm sure they'll visit at some point," Kubiak added.
STATUS QUO ON D-WARE:Kubiak said nothing has changed regarding the status of OLB DeMarcus Ware, who is under contract for another season. Ware is in Africa on vacation with WR Demaryius Thomas.
"Y'all know I think the world of him and what he did for our football team," Kubiak said "John will visit with all those players, but for now, I'm trying to give all those guys a break and let them enjoy what just took place."
SAME OFFSEASON SCHEDULE:The Broncos could have pushed their offseason work back because their season extended to Feb. 7 -- the latest date possible under the NFL's current scheduling protocol. But Kubiak declined to do so, with the start of offseason workouts coming on April 18.
"We were told that maybe we could start the offseason program a little later because of the length of the season, but we're not going to do that. We're going to hold true to the calendar of the league," Kubiak said.
That will allow the team to get a break of approximately six weeks between the end of OTAs and the expected start of training camp. The start date is expected to be based off the first preseason game date, since teams can begin camp two weeks before their preseason opener.
"I don't want to go too far into the summer, so it'll be a quick turnaround for us [to April 18], but we've got a lot of young players that we need to catch up that can help us next year and need to do a good job with those guys."