ENGLEWOOD, Colo. -- **With the evaluation of Peyton Manning's rehabilitation process ongoing, Head Coach Gary Kubiak declined to finalize a starting quarterback for next Sunday's game at Pittsburgh at his press conference Monday, but said the situation regarding the status of Manning and Brock Osweiler is unaltered.
"Nothing has changed until I sit down and see exactly where Peyton is and where we're moving this week," Kubiak said. "If we went out to practice today -- absolutely nothing changed today. I have not met with these guys yet."
Kubiak said he would not have a plan set until after he meets with the quarterbacks and gets a thorough evaluation of Manning's recent progress through throwing sessions.
"I've got to see where [Manning] is at," Kubiak said. "We've got to talk through his situation, where we're at, and talk to 'Greek' [Head Athletic Trainer Steve Antonopulos]."
Osweiler has started the last four games, completing 108 of his 170 passes for 1,140 yards, five touchdowns and three interceptions since he entered the Chiefs game Nov. 15 for an injured Manning.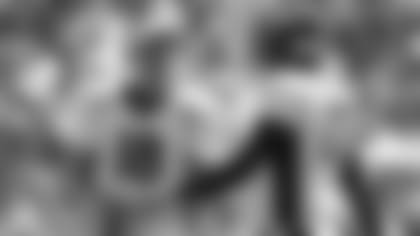 Manning threw with team strength-and-conditioning coaches last Wednesday, Thursday and Friday. Those represented his first extended throwing periods since he spent a week in a walking cast and another three days in a walking boot to facilitate his recovery from a torn plantar fascia.
"We went through a good week last week. We gave him the weekend off, so we'll see where we're at," Kubiak said. "We'll have a plan in place by the time we get to Wednesday, but we'll see where we're at today, and kind of take it a day at a time."
The next step that Manning must make is being able to work in practice. The Broncos have brought some injured players back gradually, a list that included DeMarcus Ware, who practiced prior to the Chargers game but did not return from his back injury until Sunday against Oakland.
"That's the next step: that he's coming back for practice," Kubiak said. "If you're coming back to practice, then you're working toward getting back on the field and playing.
"So let me see where we're at. I know how we ended last week, and I know what I've been doing since five o'clock this morning, so I haven't talked to anybody; I've been doing a lot of evaluation and those type of things."
The Broncos are 7-2 in Manning's starts and 3-1 with Osweiler at the controls. The Broncos have averaged more points per possession with Osweiler (1.52 to 1.24), but more yards per possession with Manning (31.0 to 30.5), and their red-zone production rates are virtually identical.
What the photographers saw in the Broncos' first loss to the Raiders since 2011.