ENGLEWOOD, Colo. --With his players off until Thursday, Head Coach Gary Kubiak declined to name a starting quarterback for the divisional-round playoff against the lowest remaining AFC seed on Jan. 17 and said he has established "no timeline" yet for deciding whether Peyton Manning or Brock Osweiler would get the first-team nod.
"They've got a few days off here. I've got a lot of things I need to do as a coach right now. I'm still up there [in the office] trying to evaluate a lot of things," Kubiak said at a Monday morning press conference. "I've got nothing for you today. We'll get ready to go, and we'll go back to work Thursday."
Kubiak added that he had no worries that not publicly declaring one of them to be the starter would create a cloud that lingered over the team as it began turning its focus to the postseason.
"I don't have any concern, because our football team understands [that] we always have direction. They know," Kubiak said. "We get together and we've got direction, and they also understand what has taken place through the course of this season with our team and how we've handled it.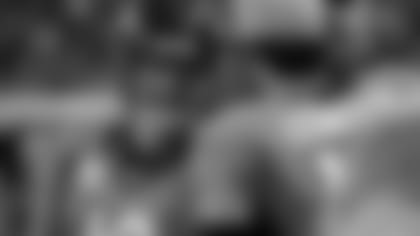 "The fact that it has taken all of us [to reach this point] -- they understand that, so I think right now they deserve to enjoy what they got accomplished yesterday and then we need to get back to work Thursday."
The development of a quarterback is rarely a linear process; there are some ups and downs, and Osweiler experienced them, including Sunday.
And his situation is more than a bit unusual, considering that his backup Sunday was a first-ballot Hall of Famer.
"Becoming a quarterback in this league, it's a process. And boy, has [Osweiler] handled his opportunity really, really well," Kubiak said. "I think he's a very tough young man, a very talented young man. He's got a lot of experience under his belt now. I'm very proud of him."
Kubiak added that he had a "very good relationship" with Osweiler, and that his belief in him remains strong.
"I guarantee you he knows I have confidence in him -- and he knows his team has confidence in him," Kubiak said. "He's a tough young man, and I know he's done a great job.
"We wouldn't be in the position we're in had he not done the job he's done, and our football team has really rallied around him."
The fact that the Broncos had similar record with Manning and Osweiler starting -- 7-2 for one, 5-2 for the other -- speaks to the role each played in keeping the team afloat.
"Yesterday it took both of them," Kubiak said. "It's taken all of us all year long, like I said yesterday after the game. I'm just very proud of both of them after the job they've done, and now we've got to get ready to go here."
CHANGING THE SCHEDULE:Unlike previous years, Kubiak opted to give his players extra time off at the beginning of the week before reconvening at the end, so players will get a respite until Wednesday before returning for Thursday.
"I don't believe in working a few days and then everybody running out of here for a long weekend," Kubiak said. "I'd rather take our break right now, evaluate where we're at as a team physically, and put a plan in place. I want everybody back here."