ENGLEWOOD, Colo. --Quarterback Peyton Manning concluded his week of throwing sessions with a Saturday morning workout that was "really good," Head Coach Gary Kubiak said at his press briefing that afternoon.
"He had a good week. He worked really hard this morning -- well, he worked every morning, but he worked really had this morning conditioning-wise and throwing wise," said Kubiak, who watched Manning's Saturday work in person.
A torn plantar fascia has sidelined Manning since the third quarter of the Nov. 15 loss to Kansas City. He practiced on Dec. 16 and 17, but sat out Dec. 18 because of foot soreness, which forced Manning to step back to the type of throwing sessions he had in the Week of Dec. 7-11.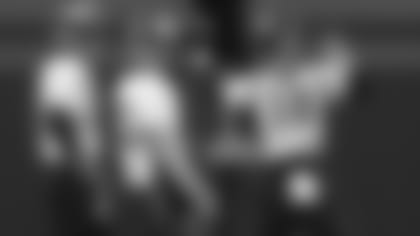 "They were all good workouts this week," Kubiak added. "He probably worked harder today than he did the other two days [Wednesday and Thursday], in all honesty, but it was a really good workout."
However, Kubiak did not want to make any assessment of Manning's status beyond being out for this week's game against Cincinnati.
"We had a good week. Let's go from there," Kubiak said.
He did not know yet whether Manning would be on the sideline for a third consecutive game or would watch inside the Broncos' locker room, as he did Nov. 29 against New England. The temperature Monday night is expected to descend through the 20s.