ENGLEWOOD, Colo. --Two things rankle Head Coach Gary Kubiak about the performance of his offense throughout the season, and especially in Sunday's 16-10 win over the Oakland Raiders.
The continued struggles of the running game, particularly in short yardage and on first down.
To some degree, both are connected.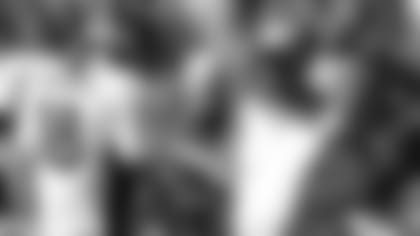 "The biggest thing offensively is we've got to finish," Kubiak said. "You go back and look; we dropped a couple of touchdowns and we had a turnover in the end zone, so that's 17 points, maybe more. It's obviously a concern.
"We've got to get a lot better and everybody's got to take their responsibility and take more upon themselves to continue to push forward."
The Broncos mustered just six of a possible 21 points from their three red-zone forays. Plagued by two drops, Peyton Manning was 4-of-8 passing in the red zone for 26 yards and an interception, and the Broncos gained just four yards on three red-zone carries.
All of the failed red-zone trips were frustrating, but perhaps the one that sticks in Kubiak's craw the most came on the series after Von Miller's strip of Derek Carr, which set Denver up at the Oakland 16-yard-line.
Peyton Manning immediately completed a first-down pass to Demaryius Thomas for 12 yards, but then two handoffs to C.J. Anderson from the shotgun gained just two yards.
"When you've got first-and-goal on the [4-yard-line], dang, you've got to be able to run the ball better," Kubiak said. "We ran the ball twice and we had third-and-goal from the [2-yard-line]. That's disappointing. We've got to continue to try to get people in the best position we can, and we've got to continue to make tough plays, too."
Kubiak tried some two-back pistol formations with Juwan Thompson offset as a fullback next to Peyton Manning, but those went by the wayside when Thompson injured his hamstring.
"We wanted to get 40 [Thompson] involved yesterday," Kubiak said.
The defensive alignments showed by the Raiders also prevented the Broncos from emphasizing the run early. Denver ran on just five of 26 plays in the first half and 13 of 29 after halftime.
"We had three wide [receivers] on the field, and they were playing us a certain way, which I thought was conducive to throwing the ball and we were doing that pretty good, we just weren't finishing," he said.
Early in the second half, the Broncos lined up with Max Garcia as an extra offensive lineman serving as a tight end, but those attempts met with little success.
"We weren't very committed to the run in the first half," Kubiak added later. "At halftime we tried to go back and do some three-tight end stuff and run the ball, but it wasn't very effective, so we got back into some hurry-up."
Regardless, Kubiak still has something to savor: the Broncos' 5-0 start which has them two and a half games in front of the San Diego Chargers in the AFC West race. Despite the offensive issues, he's pleased with where the Broncos stand and what they've accomplished.
"You're damn right I am," he said with a laugh.
"I think in coaching you're always searching for perfection, and obviously we're far from it. We've got some tremendous things going on defensively right now. But it's hard to win in this league, and I've been doing it long enough to know you'd better appreciate [it].
"If you ever get to the point where winning is relief, you're in the wrong business ... I woke up this morning and I know I've got a lot of things I'm trying to get better, but I enjoy winning every time out."
Kubiak said there was "no update" on the status of OLB DeMarcus Ware, who was carted off the field after he suffered back spasms during the first half Sunday. Ware was being evaluated Monday afternoon ...
... S/KR Omar Bolden is dealing with plantar fasciitis in his foot, but "came out okay" in his return to action after missing three games because of the injury ...
... CB Aqib Talib has soreness in his ankle after having it rolled up on Sunday. Kubiak said his injury "will be a day-to-day issue" this week. Talib returned after being evaluated in the locker room, and ended up playing 53 of 70 defensive snaps Sunday ...
... RB Juwan Thompson is also "day-to-day" with a hamstring problem. If Thompson is not healthy, promoting Kapri Bibbs to the 53-man roster is an option. "Kapri's been working well and doing a good job," Kubiak said. "We'll see if Juwan's healthy, and where we're at."
Kubiak slammed shut the notion that he would use backup Brock Osweiler ahead of Peyton Manning at quarterback. "No, Peyton's doing just fine," Kubiak said ...
... The offensive-tackle situation remains "a work in progress" as Ty Sambrailo recovers from a shoulder injury. "It's not something that's a real comfortable situation, but it's something that we have to work through," Kubiak said. Backup Tyler Polumbus played 33 snaps -- eight more than starter Ryan Harris -- and "did some good things during the game," Kubiak added.
... K Brandon McManus has been the team's special-teams MVP in four of five games so far this season, Kubiak said. "He's got a lot of confidence right now, and needs to keep going," Kubiak said.