ENGLEWOOD, Colo. --C.J. Anderson is still officially the Broncos' first-team running back, but in a more practical way, there is no difference between him and Ronnie Hillman.
"I think of them both as starters, to be honest with you," Head Coach Gary Kubiak said at his press conference Monday afternoon. "I know somebody has to walk out there on play No. 1, but they're both going to play and probably play right down the middle."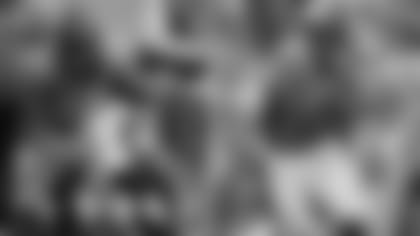 In the Broncos' 23-20 win over the Vikings, Anderson started the game, but Hillman opened the second half on the heels of his 72-yard touchdown gallop that was the Broncos' longest run in nine years.
Anderson and Hillman each finished Sunday's game with 11 carries and one reception. Anderson played 29 snaps; Hillman 25. But thanks to the 72-yard jaunt, Hillman finished with 108 yards on his 12 touches, while Anderson had 70, including 27 on a reception on the Broncos' first offensive play of the game.
Their workload balance will continue, Kubiak said.
"We'll keep going the way we're going," Kubiak said.
For Anderson, it means a few less touches than he had in Weeks 1-3, when he had 38 touches (32 carries and six receptions) while Hillman had 30 (28 carries and two receptions).
"It's obvious that Ronnie has earned the right to get more carries and play more than he has in the past," Kubiak said. "That happened yesterday, and I'll see that continue to happen."
Hillman was the team's offensive player of the week after posting his first 100-yard game since last October against the San Francisco 49ers.
"I thought he played really well, and not only did he get the yardage, but he pass-protected really well too," Kubiak said. "He had to pick up 55 [Vikings linebacker Anthony Barr] on a couple of blitzes. He's a big guy, and [Hillman] did a good job."
The Broncos have gained an early lead against the Vikings in the first half.