ENGLEWOOD, Colo.** – The Denver Broncos enter Week 14 the most battered they've been this season.
Head Coach Gary Kubiak said it best: "It's extensive. It was a little extensive last week and it's gotten a little worse."
To help ease pain of possibly losing safeties T.J. Ward, David Bruton Jr. and Omar Bolden this week, Kubiak and Defensive Coordinator Wade Phillips called on safety Shiloh Keo, a familiar face from their days coaching in Houston.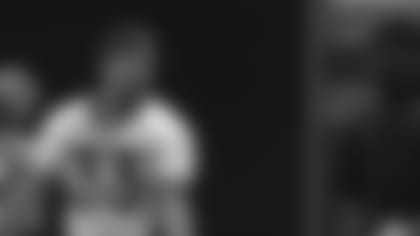 Kubiak and his staff drafted Keo out of the University of Idaho in 2011 to the Texans, where he was until 2014. Given his experience working with Phillips and Kubiak, Keo is confident he can quickly get caught up on the system.
"We had a walkthrough today. Everything seemed pretty similar, but I know that there are some differences," Keo said. "Coaches want to meet with me, get me squared away and get me caught up to speed, so we'll figure it out."
Keo made an immediate impact with the Texans on special teams, earning a captain title in 2012 alongside defensive end J.J. Watt and center Chris Myers. He saw action in 42 games in Houston, including 11 starts in 2013. In his final season, Keo recorded a career-high 63 tackles, one interception and six passes defended. He was released from the team in early 2014 following an injury.
Keo was most recently with the Bengals, who waived him at the end of the preseason this year.
"There are concerns with David and Omar right now," Kubiak said. "Shiloh has been in the scheme. We drafted him there in Houston, so he's played for us before and been a good special teams player. We feel like if need be, he could help us quickly from the standpoint of knowing what we're doing and helping [Special Teams Coordinator] Joe [DeCamillis] on special teams. We'll get him involved today."
What makes Keo's arrival even more interesting is how he reached out to Phillips on Twitter a week ago and said to "keep me in mind."
"I'm loving it. Like I said, I have a strong relationship with them," Keo said. "That whole Twitter thing was just an opportunity for myself to stay in contact and get my name thrown around hopefully for a futures contract. Things happen and now I'm here. I'm very thankful and very blessed. I can't thank the Lord enough for this opportunity."
Welcome to the world of social media, folks.
The Broncos prepare for Wednesday's practice ahead of Sunday's game against the Raiders. (Photos by Ben Swanson)