CINCINNATI --As the fourth quarter began, it was clear the Broncos weren't going to win without putting the game in the hands of Trevor Siemian.
The ground game had stalled, buckling under the weight of a Bengals defense stacked in the box to stop the run, just as it had been from the outset. C.J. Anderson and Devontae Booker had combined for just 35 yards on 11 carries; they would muster just 10 more on seven carries the rest of the way.
Trailing 17-16, with the Paul Brown Stadium crowd shoving noise through the Broncos' ear canals, the Broncos had to win through the air.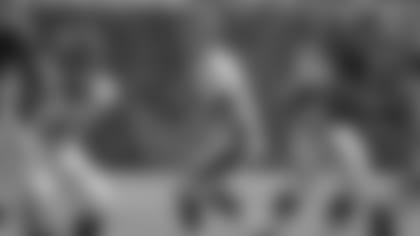 It was Siemian's game to win or lose.
He responded with brilliance.
Two-touchdowns-in-the-fourth-quarter brilliance. Drop-the-ball past man-coverage-up-the-sideline brilliance. Find-the-tight-end-with-no-career-receptions-down-the-seam brilliance.
The Broncos defeated the Bengals 29-17 and handed them their first home September loss in five years because Siemian overcame a pair of near-interceptions, settled down and guided his team to victory.
"He didn't just play. He played big in the game today," Head Coach Gary Kubiak said.
A perfect fourth quarter -- and by the NFL's quarterback-rating computation, it was, at 158.3 -- capped an afternoon in which Siemian answered one question after another.
Can he run the offense on the road and make checks and calls through noise? Yes.
Can he make enough plays to stretch a defense and prevent opposing cornerbacks from squatting on short to intermediate routes? Yes.
Can he hit the deep ball? Yes, and yes, as Emmanuel Sanders and Demaryius Thomas can attest via  41- and 55-yard touchdown strikes up the left sideline that were the Broncos' first and last touchdowns of the day.
"We just needed to take some shots," Anderson said. "We took some shots today, and our shots worked. So we're happy about that. We grew up today as an offense."
And Siemian continued his maturation process, although given his unruffled demeanor in the huddle, it seems like he arrived in the league already in possession of a wily veteran's even temperament.
"I know he's a young quarterback, but he doesn't act like it," Sanders said. "He's always poised. He's always calm, cool and collected."
Never was he cooler than on third-and-11 from the Denver 45 with 4:32 remaining in the game and the Broncos clinging to a five-point lead.
The defense had already done its part, forcing a three-and-out aided by an A.J. Green drop that quickly gave the ball back to the offense just 2:02 after a 1-yard Siemian-to-John Phillips touchdown connection. Now it was up to Siemian to make the defense's work stand up.
Adam Jones, the man who broke up Siemian's second-and-11 attempt to Thomas, was no longer in the game, having been shaken up on the pass deflection. Chris Lewis-Harris took his spot.
As the Bengals made their personnel adjustment, the call came in: Thomas on a go route up the left sideline.
"Even on the deep ball to Demaryius, he said, 'We're about to go for the gusto,'" Sanders said.
"I think I was passing the word along from [Kubiak],' Siemian said. "I knew we had a shot."
A shot is a shot, even if Siemian wouldn't have used the word "gusto" on his own.
"I don't recall the verbiage," Siemian deadpanned.
"Gusto" or not, that wasn't the only sentiment the uber-confident quarterback conveyed, as Anderson recalled.
"He said it in the huddle: 'Man, if I put this up, are you going to make a play?'" Anderson said. "DT told him, 'Yeah.'"
Thomas promptly took off, roaring past Lewis-Harris until he got under Siemian's pass.
"Next thing you know, we've got six," Anderson said.
And the Broncos had something more -- their third win, accomplished in a manner that will open up horizons for Siemian and the offense.
"You can see the balance that we can have," Anderson said.
"The last two weeks we had, we ran the ball. But today, we saw a lot of eight- and nine-man box. Different fronts, shifting the fronts. If you want to bring him down, and leave no safety over the top, it's like Madden, man, we're going to push triangle, push up. We're gonna go get you."
Now they might not see as many formations filling the box. Now the offense has tangible evidence that it can beat an opponent with Siemian's arm as much as Anderson's legs.
"It was a great outing," Kubiak said. "I don't think you get too carried away — but we know we have a good young quarterback who's on a good team, and this was a great sign today."
A look at the Broncos' celebration after winning their first road game of the year. (Photos by Eric Bakke unless noted)