ENGLEWOOD, Colo. --Riley Dixon's rookie season wasn't perfect. But he did give the Broncos an upgrade, and his 41.3-yard net average was the best for a rookie or first-year punter in NFL history.
This what the Broncos hoped to find when they used a seventh-round selection on Dixon last spring. They picked him not just because he had a strong leg, but a precise one, having blossomed into one of college football's best placement punters at Syracuse.
Further, Dixon's proficiency is not just a product of playing half his games at 5,280 feet above sea level. His 40.2-yard net average in road games would be the third-best all-time for a rookie, trailing only Bryan Anger (40.8 yards in 2012 for the Jaguars) and Sam Martin (40.4 in 2013 for the Lions).
Anger and Martin finished 4.3 and 3.3 percent above the league average as rookies, respectively. Dixon concluded his rookie season 2.7 percent above the league-wide net average, which ranks sixth of 75 rookie or first-year punters in the last 20 seasons.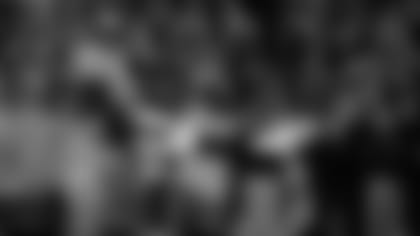 Two other punters since 2011 exceeded the league net average by 2.0 percent or greater as rookies or first-year players: Ryan Allen (2.0 percent over the league average in 2013) and Johnny Hekker (2.0 percent over the league average in 2012).
Why is the 2.0-percent figure for a new punter so important? Just take a look at the league's list of punting leaders for 2016 and you'll have your answer:
Hekker: First in net average (46.0 yards)
Martin: Second in net average (44.2 yards)
Anger: Third in net average (42.7 yards)
Allen: Seventh in net average (41.4 yards)
This is the company the Broncos want Dixon to keep as he grows.
There are other areas in which they hope for improvement. Dixon was close to the average in touchback percentage (6.7 percent, 16th-best) and ranked 25th in percentage of punts dropped inside the 20-yard line (31.5 percent). He also ranked 19th in percentage of punts returned (44.9 percent), but his placement and the work of his coverage team allowed him rank eighth in average return yardage allowed (6.78 yards).
You can't consider Dixon's rookie season anything but a success.
... Of the 168 first-year or rookie punters with enough punts to qualify for the league end-of-season rankings since 1976, 96 of them (57.1 percent) finished below the league-average net-punting figure. The six other qualifying first-year or rookie punters the last two seasons all finished below average in net punting, most notably the Jets' Lac Edwards, who finished 2.9 yards and 7.21 percent below league average.
... In recent years, a focus of league rules changes has been to reduce kickoff returns. But punt returns are also at their lowest rate since the early 1960s. This season, just 43.3 percent of punts were returned; that's the second-lowest rate since 1962, when only 39.3 percent of punts were returned in NFL games (in the AFL, that percentage was even lower: 38.0 percent).