BOCA RATON, Fla. -- **For the Broncos, the revolving door of free agency has seen more players exit than enter so far this spring.
But despite the losses, Executive Vice President/General Manager John Elway believes, above all, that his team improved over the last two weeks by retaining C.J. Anderson and upgrading the tackle spots with Russell Okung and Donald Stephenson.
"We feel like with the steps we've made so far, we're better, and we'll continue to get better," Elway said Monday. "We'll go through and look forward to having a great draft, and before we know it, we'll be in training camp and we'll be excited about seeing what we have."
Matching the Dolphins' offer sheet for Anderson helped in providing some continuity to an offense that will feature new first-teamers at a minimum of six spots: both sets of guard and tackle positions, quarterback and one tight end spot.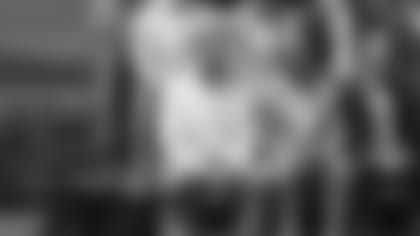 "I think that's always a point, especially when you think of last year and making the transition when [Head Coach] Gary [Kubiak] came in, the whole new staff and system and everything that we went through last year.
"So to have a year under our belt there, and with C.J. being there and knowing the system -- that all helps us."
Success for Anderson will be as much about health as anything he controls. Anderson dealt with a sprained ankle in the first six weeks of the 2015 season and it showed; he didn't have the explosion and quick-cutting ability he displayed during his breakthrough late in the 2014 campaign.
With a chance to rest over the Week 7 bye, Anderson recovered -- and rediscovered his form. By the postseason, he was carrying the ground game -- and, at times, the entire offense, showing his potential and his capability as a primary, every-down back.
"I think C.J. played his best football at the end of the year," Kubiak said. "C.J., to me, if he can stay healthy throughout the course of the season, I think he's got a chance to be an extremely productive player, so I'm counting on that.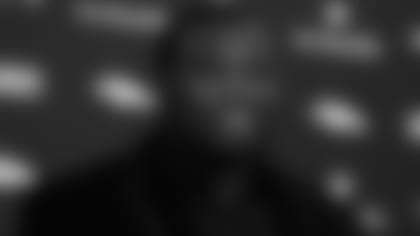 "I think he'll grow with what we do, but I think we'll get better in front of C.J., too. I think that has a lot to do with it. But we're looking forward to seeing C.J. grow as a player and as a young man."
If Anderson improves and the reconstructed offensive line finds the consistency last year's quintet lacked, the Broncos' offense won't linger in the bottom half of the league's statistical rankings, and could provide a more effective complement to a defense that returns nine of 11 starters.
"He's very young, and I think he's going to get better -- his work habits, all those things, and staying healthy for a full season with us," Kubiak said. "[If those happen] I think his numbers go up and he gets even better."
Anderson won't be the entire solution; Elway said running back is another area "where we're looking to bring in some more competition."
But the plan is for that to complement Anderson's abilities.
"We really think that this is the year that C.J. is going to blossom," Elway said, "because of the fact that we'll get better up front and give him an opportunity to be as good as he can be."
Executive Vice President of Football Operations/General Manager John Elway and Head Coach Gary Kubiak are in Boca Raton, Fla. for the NFL Annual Meeting. (Photos by Andrew Mason)