ENGLEWOOD, Colo. --Last week was as good as it gets for John Elway. He made his annual appearance at the American Century celebrity golf championship, finished in the top 10 and wrapped up his week with a 1-under-par 71 at the Edgewood Tahoe Golf Club.
Oh, and his team made good on its long-stated hopes to sign wide receiver Demaryius Thomas to a long-term contract.
Although there are the inevitable day-to-day frustrations that go with even the most successful teams, it's hard to argue with the overall ledger of the Elway era since he became the Broncos' executive vice president of football operations in 2011: a 49-22 record including the postseason, four consecutive division titles and a Super Bowl appearance. After years of mediocrity, the Broncos found their way back to the elite on his watch.
The re-signing of Thomas was another big move in a four-year stint filled with them. Here are the 10 best:
JULY 31, 2011: WILLIS McGAHEE SIGNS AS CAMP BEGINS**
The lockout wiped out the 2011 offseason and compressed the free-agent signing period into a pre-camp frenzy that saw new players arriving at Dove Valley on what seemed like a daily basis as training camp began. In a four-day span, the Broncos signed five veteran free agents and traded for defensive tackle Brodrick Bunkley.
None had anywhere close to the impact of McGahee.
The Broncos led the league in rushing in 2011, and McGahee was the biggest reason why, shedding the notion that he had nothing left by racking up six 100-yard games and averaging 4.8 yards per carry en route to a 1,199-yard season. He came the first-teamer in Week 2 and never looked back, and earned such respect in the locker room that he became a team captain in November after Kyle Orton was released.
As far as value signings go, McGahee was one of the best.
APRIL 28, 2012: THIRD-DAY HAUL INCLUDES DANNY TREVATHAN AND MALIK JACKSON**
The Broncos didn't have a first-round pick after trading out of Day 1, and their Day 2 picks included one immediate starter (Derek Wolfe), a developmental quarterback (Brock Osweiler) and a change-of-pace running back (Ronnie Hillman) who was picked at the time to relieve McGahee and Knowshon Moreno. But their third day was what stole their show that year, as they found impact in  Trevathan and Jackson, two defenders who outplayed their draft status from their arrival.
Trevathan's quick emergence helped the Broncos withstand the loss of D.J. Williams to a pair of suspensions in 2012. He stepped up to the first team on a full-time basis the following year and looked poised for a breakout season last year before injuries struck. Jackson had his breakout year last fall, becoming one of the best hybrid 4-3 linemen in the league; he should do even better working as a 3-4 defensive end.
APRIL 30, 2011: JULIUS THOMAS DRAFTED IN THE FOURTH ROUND**
This pick turned out to be prescient; eventually Thomas broke the Broncos' single-season record for touchdown receptions by a tight end and earned consecutive Pro Bowl selections. But the Broncos first had to be patient with Thomas. As you'd expect from a converted basketball forward who arrived with only one season of football since his freshman year of high school, his game needed refinement. His blocking needed to be taught from the most basic foundations. An ankle injury suffered in Week 2 of his rookie season further inhibited his development, and the protracted recovery basically wiped out his 2012 season.
But the Broncos knew what they had, and they waited. In 2013 and 2014, they bore the fruit of his progress.
Losing him in 2015 hurt. The Broncos had to make some tough choices, and with Demaryius Thomas earning a new contract and Von Miller playing on a big raise because of a fifth-year option, the Broncos did not have the cap room to keep them all. But just because he's now playing elsewhere doesn't mean his selection wasn't one of the Broncos' best moves.
SEPT. 2, 2013: BRANDON MARSHALL SIGNED TO THE PRACTICE SQUAD**
When the Broncos signed the former Jaguars linebacker, the move barely elicited a ripple in the NFL pond. The same was true when the Broncos promoted him to their 53-man roster late that season after Von Miller suffered a season-ending torn anterior cruciate ligament.
But by 2014, the Broncos' foresight in adding Marshall paid off. The first of Trevathan's three injuries to the area in and around his knee thrust Marshall into the starting lineup during the second week of the preseason. Not only did he ensure there was no dropoff from Trevathan, but he might have surpassed his play in some aspects. Marshall led the Broncos in tackles, became as effective in coverage as against the run and finished the year as the Broncos' leading tackler and one of the top 10 outside linebackers in the game, according to ProFootballFocus.com.
If Marshall can recover from the foot injury he suffered last year, he could be on course for a long and brilliant career, something which he feared could never come to pass after the Jaguars released him.
MARCH 14, 2013: LOUIS VASQUEZ SIGNS A FOUR-YEAR CONTRACT**
The signing of Wes Welker seized the headlines that day, but by the end of the season, it was Vasquez who became the best at his craft that year. He became the only first-team All-Pro guard in Broncos history and stabilized an offensive line that lost left tackle Ryan Clady to a Lisfranc injury in Week 2.
Vasquez gamely handled the transition to right tackle last year after the offensive-line shuffle of midseason, but now goes back to the position he plays best. His task will be similar to what it was in 2013: to be a pillar of a line dealing with a Clady injury. This group will be younger and less experienced than the offensive line of 2013, and Vasquez's experience and leadership will be needed now more than ever.
MAY 1, 2013: C.J. ANDERSON SIGNS AS AN UNDRAFTED FREE AGENT**
It became apparent early in his rookie camp that Anderson was different, and the fact that the Broncos kept him on their 53-man roster after training camp in spite of a knee injury illustrated the depth of their sentiments. But how different Anderson was didn't become apparent until he got his chance at Oakland last November following injuries to Montee Ball and Ronnie Hillman.
Anderson's 51-yard catch-and-run against Oakland remains his signature play; he caused four missed tackles along the way to the score, including one from a future Hall of Famer (Oakland's Charles Woodson). By the end of the season, he was on his way to the Pro Bowl; now he's in line to be the season-opening starting running back, and he could be set for a massive season in a zone-blocking scheme that has elicited career years from running backs since time immemorial.
MARCH 16, 2014: EMMANUEL SANDERS SIGNS A THREE-YEAR CONTRACT**
With Eric Decker headed to the New York Jets and the knowledge that they would have to give Demaryius Thomas a big contract within the next 16 months, the Broncos needed to replace the production of Decker while saving cap space. That meant they had to make a projection: which receiver beyond the first tier of that year's free agents was most likely to make the leap?
That was Sanders, and in his first Broncos season, he didn't disappoint. After spending most of his four years with the Steelers as their No. 3 receiver, Sanders signed a three-year, $15 million deal and stepped into Decker's place in the lineup. Not only did the Broncos not miss a beat, but Sanders actually eclipsed Decker in production, which helped the passing game withstand the 2014 struggles of Wes Welker and injuries to Julius Thomas.
Together, Sanders and Demaryius Thomas became the fourth pair of 100-catch receivers on the same team in NFL history, and the Broncos' first duo since 2000 (Ed McCaffrey 101, Rod Smith 100).
APRIL 28, 2011: VON MILLER DRAFTED**
What seems like a slam dunk in retrospect was not heading into the draft; the Broncos had an urgent need at defensive tackle, and Alabama's Marcell Dareus was on the board. He went to the Bills one pick later and is a two-time Pro Bowler and first-team All-Pro in his own right. Truly, the Broncos could not have gone wrong with either possibility.
But Miller's career has been extraordinary at the most difference-making spot on defense: edge rusher. Even though most draft pundits saw him as a 3-4 outside linebacker, the Broncos found a role for him in their 4-3 alignment, using him as a strong-side linebacker in the base package and a hand-in-the-dirt defensive end in sub packages.
There are obvious comparisons to the late Derrick Thomas. Thomas had his best years as a 3-4 outside linebacker before the Chiefs converted to a 4-3 alignment later in his career; his numbers dipped a bit, but he remained effective. Now Miller takes the reverse path, going to the 3-4 alignment in his fifth season. As productive as Miller has been so far (49 sacks in 56 career games), he could be an even more potent force this year.
JULY 27, 2011: CHRIS HARRIS JR. SIGNS**
Harris is far from the only undrafted signee to stick on the roster during Elway's years on the job; with pickups such as Anderson, LB Steven Johnson, long snapper Aaron Brewer and safety Duke Ihenacho, the Broncos have made a habit of finding value from the undrafted ranks. Their recent hauls extended their streak of having at least one college free agent on the post-preseason 53-man roster to 11 years and counting.
But among this group, Harris is special, and the team's best underrated find since Ring of Fame wide receiver Rod Smith in 1994. The first indication of Harris' skills came during overtime of the Broncos' Oct. 23, 2011 win at Miami, when he forced two incompletions that kept the Miami offense from getting untracked, helping set the stage for the defense's strip-sack fumble and a game-winning Matt Prater field goal.
Harris grew from there. He quickly became the Broncos' slot cornerback, then took over every-down work in 2012. He didn't make the Pro Bowl until last January, but it can be argued he deserved selection in each of the previous two years. In the midst of all that, he recovered from a torn anterior cruciate ligament and was back on the field less than eight months after suffering the injury against the Chargers in a January 2014 divisional-round win.
With a five-year contract in his hand, Harris is poised for a prosperous career. If he stays healthy, more honors should come his way, and he could join luminaries like Louis Wright and Champ Bailey in Broncos annals.
MARCH 21, 2012: PEYTON MANNING SIGNS A FIVE-YEAR CONTRACT**
The biggest coup of the Elway era transformed the franchise.
Prior to Manning's arrival, the Broncos went five consecutive years without a winning season -- their longest such streak since 1960-72. Their most recent starting quarterback, Tim Tebow, was their 11th in 13 years since Elway's retirement from a 16-season playing career. The Broncos were trapped in the league's middle; five of their previous six seasons finished with seven, eight or nine wins.
Manning's arrival changed that from the moment he held up his No. 18 jersey, which had not been worn in the regular season since the Broncos' first quarterback, Frank Tripucka, hung up his black cleats. Once he got in tune with his new teammates, he was his old self; by 2013, he was even better, shattering league records. The Broncos won 38 of their next 48 regular-season games and won their first AFC championship in 15 years.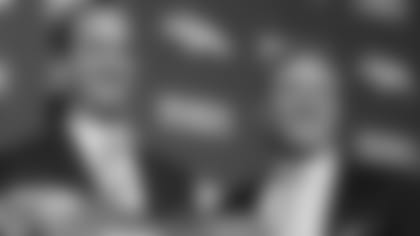 All that was possible because the Broncos didn't put the full-court press on Manning, but instead let him take his time after his visit to Dove Valley following his release from the Indianapolis Colts. Manning met with other teams, but aside from a workout at Duke University in front of team personnel, the Broncos stood by and waited, knowing that Manning had to first come to terms with the emotion that accompanied leaving the Colts. When Manning made his decision, the Broncos were ready, and it was only months before the Broncos were back among the league's elite.
HONORABLE MENTION:
(in chronological order)
• March 29, 2012: TEs Joel Dreessen and Jacob Tamme sign
• April 17, 2012: WR Brandon Stokley returns to the roster
• May 3, 2012: LS Aaron Brewer, LB Steven Johnson and S Duke Ihenacho headline a 13-player CFA crop
• Aug. 5, 2012: S Jim Leonhard signs a one-year contract
• Sept. 11, 2012: C Dan Koppen signs just before Week 1
• March 14, 2013: DT Terrance Knighton and CB Dominique Rodgers-Cromartie sign contracts
• April 29, 2013: OLB Shaun Philips signs a one-year deal
• March 12, 2014: CB Aqib Talib, DE DeMarcus Ware and S T.J. Ward sign their contracts
• Dec. 13, 2014: CB Chris Harris Jr. signs a five-year contract
• May 12, 2014: RB Juwan Thompson headlines the list of 15 CFAs