ENGLEWOOD, Colo. --There will be a time for a decision as to the Broncos' future at quarterback, but that isn't right now, Executive Vice President/General Manager John Elway said at a roundtable question-and-answer session with writers Thursday at the UCHealth Training Center.
"Well, I think what we're doing now is we're kind of staying in the moment," Elway said. "Again, you go back and everybody wants to know what Peyton's doing, but I think Peyton [Manning] is staying in this moment now, and he's going to have plenty of time to think about what he wants to do in the offseason.
Elway said he did not know whether this would be Manning's last go-around, and Manning has deflected all such questions this week, choosing to focus on the game at hand.
"We're going to face that down the road," Elway said. "I think Peyton said he's not going to talk about it until after the year.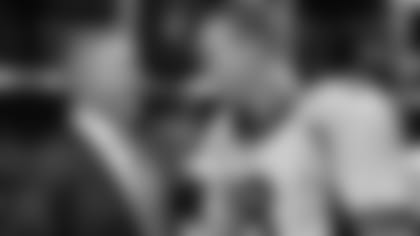 Elway said he would talk about the future with Manning after the season.
"I'll have all those discussions with Peyton when the year's over," Elway said. "If he wants my advice, or has questions of what I went through, we had those discussions last year and I'm sure they'll be a lot like the same this year after the season's over."
Manning has one year left on his contract, but struggled with injuries this season before returning in Week 17. Brock Osweiler filled in for Manning and showed some promise, although a spate of giveaways in the last three games of the regular season -- including five against the Chargers on Jan. 3 -- spurred a change back to Manning.
"I think Peyton looks to be more comfortable with what we're doing," Elway said. "He's more comfortable underneath (center). He did last week. He got underneath the center and that maybe comes from he's feeling better and he's healthy.
"So, I think that's been the concept all year is to blend that. And so I think with the time that he got healthy and the he came back. It's still a work in progress."
It's been a work in progress, but there has been improvement. Although it's a small sample size, the offense has averaged 30.97 points per 60 minutes since Manning returned to the lineup, although with just three touchdowns and seven field goals, the ability to fully cash in on opportunities remains an issue.
Head Coach Gary Kubiak's handling of the quarterback situation -- from Manning to Osweiler and then back again in Week 17 -- impressed Elway.
"The way he managed that and handled that, it was a tough situation, because there's obviously a lot of people that want to see Peyton playing, and you've got a football team, and you've got to make sure the football team continues," Elway said.
"It's a really delicate situation, and he handled it masterfully."