INDIANAPOLIS -- **Executive Vice President/General Manager John Elway reiterated what Head Coach Gary Kubiak said a day earlier: Peyton Manning will have time to make his decision as to whether he wants to return for a 19th NFL season.
"I don't have anything else to say on Peyton other than we're going to respect the fact that we're going to give him some time and let him enjoy it," Elway said at his annual Scouting Combine press conference Thursday afternoon at Lucas Oil Stadium.
"That's why we're going to give Peyton the time to think about it and do what he wants to do. Then we'll go from there. I know we could go back and forth but there is not an answer there yet so I can't give you one."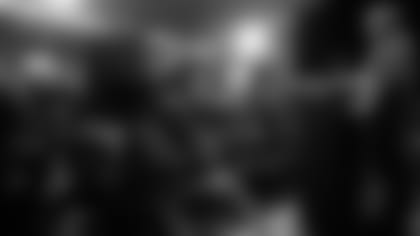 But even as the Broncos wait on Manning, Elway's work continues. Discussions are ongoing with Von Miller's agent, Joby Branion, with further negotiations scheduled for Friday. Elway is also working on a contract with DE Malik Jackson, and said he will begin talking with Brock Osweiler on a new deal.
"I don't tie those together," Elway said. "Obviously we'll have to wait and see. But I think with the discussions that we have going right now, we're not affected by Peyton's decision.
"We'll continue to work with the contracts that we have with the players that we have -- Malik Jackson as well as Von -- and continue to work on that. We're not tying that in. Again, we're going to let Peyton have his time."
Manning has time, but not an unlimited amount of it; with his salary guaranteed if he is on the roster March 9 at the start of the new league year, there is a clear demarcation point. But that matches the time Manning had last year to decide on his future."We're going to give Peyton the time that Peyton deserves because of 18 years. He deserves that," Elway said. "I don't mean to leave it out there, but Peyton and I have talked and we said, 'You know what? We'll get back together in a week to 10 days, see where you are and then we'll go from there.'"
Elway had nothing but praise for the quarterback who guided the Broncos to 50 regular-season and postseason wins and division titles in each of his last four seasons since joining the club.
"Peyton is the same old Peyton that he was," Elway said. "He's 18 years into it and again it's going to come down to what Peyton wants to do.
"If he wants to go through that grind and wants to [do it] again -- we'll have those discussions. Peyton led us to a world championship and showed you the championship quarterback that he is."
On the opening day of the 2016 NFL Scouting Combine, Head Coach Gary Kubiak had a busy day with the media. (photos by Ben Swanson unless otherwise noted)