PHOENIX --Two and a half weeks into the new league year, the waters of the free-agent market are calmer. When this week's NFL annual meeting concludes, John Elway's eyes will turn ahead to the draft.
In the eyes of the Broncos' executive vice president and general manger, it's so far, so good.
"We've got a long way to go; we've got the draft ahead of us. But I'm excited about the first steps we've taken," Elway told Broncos TV on Sunday.
The first steps were big ones -- as much literally as physically, given the size of the Broncos' pickups along the offensive and defensive lines: 1,294 pounds of man, mass and muscle named Ron Leary, Menelik Watson, Domata Peko and Zach Kerr.
"Some big people," Elway said. "Obviously our division is getting more and more physical, and I think we've added some very physical players. To play against physical, you've got to be physical, and I think they're really going to help us."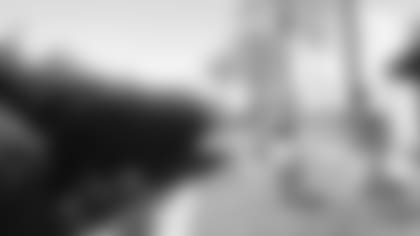 Even though the focus will be on draft preparation in the next few weeks, the Broncos are not done with free agency. They've made pickups in April and beyond in previous years, but when Elway returns to his office, he will begin making the draft board with his personnel and coaching staff.
"Obviously, we kind of have a good feel for where the draft board is at this point in time, but now we'll get in and really get in with the coaches and start meeting with the coaches on each position and start stacking the board," he said.
"I think what we do is we try to make sure that all our draft picks are going to be football players, and so if we can get a player that we really like and is in a position of need, we're that [much] better off. That's why the draft is so exciting, because you never know how things are going to fall, but I've got so much confidence in our staff, and I look forward to getting busy and start setting that board."
One step in that process came when Elway and his staff recently used one of their 30 allotted in-person visits at team headquarters to meet with Oklahoma running back Joe Mixon -- who was not invited to the NFL Scouting Combine earlier this month after a college career that included a one-year suspension.
"I think it's important for us to do our homework," Elway said. "He's a tremendous football player and has proven that at Oklahoma, but I think that's what your 30 visits are for, is to find out about each different player and get as much homework done on him as you can.
"Obviously Joe Mixon is a guy that is going to be playing somewhere in the NFL, but we wanted to get to know him a little bit better and do our homework."