HIGHLANDS RANCH, Colo. --Before he joined the Broncos in 2012, Joel Dreessen played five seasons for the Houston Texans under Gary Kubiak. So when the ex-tight end watched Friday night's game and saw his old boss, he witnessed exactly what he experienced from 2007-11: intensity, even for a preseason game whose scoreboard result is quickly discarded.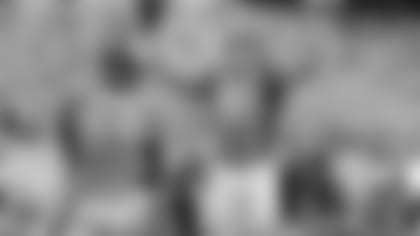 "Same old Coach Kubiak to me," Dreessen said when he joined Broncos TV at Buffalo Wild Wings in Highlands Ranch late Sunday afternoon. "Football is important to him. He is not a head coach for anything else but to win ballgames. That's all that matters to him, and he'll tell you that, too. But he thinks he owes it to the guys that are battling their tails off trying to make their living, trying to fulfill their dreams.
"So he is just as dialed in to these preseason games as he would be if you were playing in a playoff game or a regular-season game, because it's important to him, because it's important to his players."
It doesn't stop with game days, either. Dreessen recalls with fondness the motivational, hands-on coaching that Kubiak provided with the Texans.
"Out on the practice field, a lot of times, he's educating the players, saying, 'Look, this is what the situation is, and how I want you guys to think. This is the thought process I'm using,' so everybody can be on the same page and really work together," Dreessen said.
"But as far as motivating goes, [during] our time spent in Houston, we loved Saturday nights, just because -- you guys have spoken to him, at every press conference he does, he gives a unique answer to every single question. There's no cookie-cutter format to this guy. He's going to be very genuine. And he was the same way with Saturday night meetings with the football team. He'll tell a story; he'll relate to you; he'll go through the schedule. You just walk out of that room ready to play for that man."
Dreessen also shared plenty of other thoughts on the Broncos' new offense and insight on his former teammates from Houston and Denver:
On what he thought the offense would look like going into the Seattle preseason game:**
"I was thrilled to see that style of football back, just huddling up, everybody [knowing] exactly what they're doing. You [Broncos TV's Chris Hall] mentioned it earlier: they didn't have a procedure penalty; they didn't have a substitution penalty. That's very rare when you've got an 80-man roster and you're in the first preseason game. The team was well-coached. They knew exactly what they were doing, and they played fast. Just that line surge, running the football. That was great to see. I love the bootlegs and play-action and stuff. I love seeing my tight ends -- Virgil Green had great cut blocks; I think he had five catches and the big touchdown right before the half. James Casey blocked really well. Those tight ends are going to be a big part of this offense moving forward. I really enjoyed that style of football."
On how successful he believes Peyton Manning can be in this offense:
"You know, this is kind of funny, but to quote Dr. Phil: 'The best indicator of future behavior is past behavior.' Peyton's been great for 17 seasons, and now they're giving him an offense with a lot of help around him. It doesn't have to be 'The Peyton Show.' He's going to be so good. He's going to be great. They keep saying it: Peyton's best friend is going to be this running game. I'm really looking forward to seeing how it all comes together against the Ravens Sept. 13."
On the impact of the veteran rest days at the end of the season:
"As an athlete, as a competitor -- like Peyton is, like a lot of guys are -- it's tough to try that. You always want to be like, 'Look, tomorrow's never promised; I've got to put in my day's work today, and make today count.' But no coach has a better feel for the pulse of his athletes, the pulse of his team, than Coach Kubiak. He sees the big picture. You've got to trust him that rest now means you're going to be a little bit healthier down the road. You've got to think in the big picture."
On how those veteran rest days help the younger players prepare to contribute later in the season:**
"By resting some of your veteran guys, that's the way to establish depth and establish experience, to develop younger players. It's kind of a double benefit. You rest your guys that you know can play while developing some depth in guys who are getting valuable experience."
On how blockers must have a "nasty" quality to execute the kind of blocks demanded in this offense:
"Sure, and there's a learning curve to it, but Clancy Barone, the offensive line coach, and Brian Pariani, the tight ends coach, they're doing a great job getting those guys dialed in as to when to cut, when not to cut. But it's another tool in your tool box as a tight end or as an offensive lineman when you're blocking. If you have another tool that you can use, it just gets the defense thinking about it more -- 'Man, am I going to get my legs taken out? Is he going to chop my hands? Is he going to punch me in the chest?' And you saw it with Ronnie Hillman running the football -- it opened up lanes for those guys to burst north and south and get positive yards."
On the impact of Owen Daniels once he sees game action:
"Owen is as good of a tight end as I've ever been around as far as what he does on the line of scrimmage, run blocking, pass protection, and then he's so difficult to cover. I learned so much from him as far as how to run a route, how to set a guy up and beat man coverage. Owen is a very, very gifted tight end in this offense. You're going to see great things from him."