ENGLEWOOD, Colo. --Through the fight with Alzheimer's disease, there remain good moments for Broncos Owner Pat Bowlen, when the quiet confidence and sense of humor that defined his personality for his working life are evident.
Wednesday was one such occasion.
President/CEO Joe Ellis, the man entrusted by Bowlen to run the day-to-day operations of the franchise, drove to Bowlen's home to visit with him and share the news of his selection to the Broncos Ring of Fame.
"I was glad he at least smiled and had a twinkle in his eye today when we informed him of it," Ellis said.
Bowlen's response was typical of a man who deflected credit, who in the late 1990s held aloft Vince Lombardi Trophies and proclaimed, "This one's for John!" and "This one's for you!" -- referring, of course, to the Hall of Fame quarterback and the team's devoted supporters, respectively.
"I said, 'You know, you started the Ring of Fame back in 1984, and today you were elected into the Ring of Fame,'" Ellis said. "He paused, he had a little wry smile come over his face, and he said, 'Well, why the hell would you guys do that?'
"That kind of sums up what Pat's all about: his modesty and his humility. I think Shannon Sharpe said it best when he said, 'Pat never wanted to take any of the credit; he wanted everybody else to get the credit.' But today he deserves the credit.
"Nobody is more deserving of being in the Ring of Fame than Pat Bowlen is."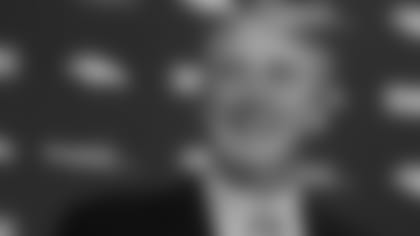 But Ellis' fondest hope is that this is not the last honor for Bowlen. His statue at the south entrance to Sports Authority Field at Mile High, his bust soon joining the other Ring of Famers in the nearby plaza, his name that will be displayed on the 500 level inside the stadium -- these are all worthy commemorations of Bowlen's life and legacy.
But there's just one thing missing.
"The next step, we all believe -- and we're partial, but we believe it strongly, with conviction -- for Mr. B should be the Pro Football Hall of Fame," Ellis said.
Bowlen's resume for Hall consideration is impressive; his accomplishments and involvement in NFL circles are massive.
"He was a catalyst in so many ways with the broadcast committee, and his efforts on the NFL Management Council Labor Committee, Finance Committee, Stadium Committee (and the) L.A. Working Group -- all these various committees over the years," Ellis said.
"It felt good to have an owner that you worked for that provided so much and was, quite frankly, powerful within the National Football League," Ellis added later. "You felt like your franchise was noteworthy, and you were working for a great organization."
The accomplishments on the field and the involvement away from it are why Ellis feels Bowlen belongs with the immortals in Canton.
"I'm hopeful that that day comes sooner rather than later. Pat deserves it … He is deserving of that honor, and someday, I think that honor will come."
WHY WEEK 8? *The Packers game was chosen for the induction because of its double significance: that the Broncos' first world championship came against Green Bay in Super Bowl XXXII, and that the game will be on *Sunday Night Football, which Bowlen helped create as a part of the NFL's Broadcast Committee.
"Pat was one of the catalysts for getting Sunday Night Football off the ground," Bowlen said.
Appropriately, NBC aired Super Bowl XXXII, just like it will broadcast a Week 8 showdown that is expected to be the first game pitting teams led by Peyton Manning and Aaron Rodgers since 2008.
The only question that remains is whether Bowlen will attend, but "it's too early to tell right now," Ellis said.
THE SELECTION: **Ellis and four others comprise the Ring of Fame selection committee: former general manager John Beake, former long-time defensive coordinator Joe Collier, ex-radio analyst and play-by-play man Larry Zimmer and longtime Broncos communications executive Jim Saccomano.
"In my 21 years of working for Pat, it was one of the best meetings I've ever been in, and that's because we spent a lot of time kind of reflecting on everything that he meant to us individually -- all five members, as much as his contributions," Ellis said. "The contributions part, that was pretty easy to look at and understand, and we've all known this for a while, just how great a job he's done as owner of a pro sports franchise.
"But to think about it personally for us was just very rewarding to be able to do this, and for me to be able to go over to the house, it was a special thing."
FUTURE OF OWNERSHIP:Ellis said there was no change in the status of the team from last July, when the Pat Bowlen Trust was created to oversee and operate the franchise.
"We are still where we are from last July," Ellis said. "It's his hope that one of the children will come along and run the team someday -- and it's my hope that it's sooner, rather than later.
"It will be a while; I don't want to mislead anybody. There are some particular things that Pat wanted to see out of his children and we as trustees are watching and monitoring that. Nothing has changed since we last talked to you about that. Hopefully we can keep doing as good a job as we strive to do."
A look at Owner Pat Bowlen's 34 years with the Broncos.