ENGLEWOOD, Colo. --Every year when the Broncos returned to San Diego, the franchise could relive some of its fondest memories.
It wasn't just about some of the big wins the club had against the Chargers at their half-century-old stadium in Mission Valley, but also a day that remains perhaps the greatest in club history: Jan. 25, 1998, when the Broncos finally broke through for their first Super Bowl win after four losses over the previous 20 years.
Qualcomm Stadium was also the place where Pat Bowlen became the fastest NFL owner to the 300-win mark, with a 28-20 win at San Diego on Nov. 10, 2013 pushing him to that cherished milestone.
Whether it was named San Diego Stadium, Jack Murphy Stadium or after a cellular-phone company, it was a venue where the Broncos won 24 games over the years -- more than in any stadium that was not their home.
And now it's a place to where the Broncos won't return after the Chargers announced their intention to relocate to Los Angeles, acting on the option given to them by league owners last year.
"Ever since the Broncos have been in existence, we've gone there, so it does have kind of a special place in our heart and we're going to miss it," President/CEO Joe Ellis said Thursday. "And it's not great when teams relocate, but unfortunately, it's come to this."
But Ellis, the Broncos' representative at owners meetings and a member of the league's stadium committee, felt that Chargers owner Dean Spanos had no choice after a series of dead ends in their efforts to find a solution to replace their aging stadium.
"Dean had to make a decision that was in the best interest of his franchise," Ellis said. "It's kind of a sad day when these things happen -- especially to a community like that which gave such great support to its team."
The NFL's departure from a city that hosted three Super Bowls and 56 seasons of Chargers football following the then-AFL club's relocation from Los Angeles for the 1961 season left Ellis with a sense of melancholy.
"That's probably a good way of putting it," he said. "I think the Spanos family has done everything they possibly could to get a stadium built there and work with the community. It just didn't work out."
The Chargers announced their intention to play the next two seasons at the StubHub Center in Carson, Calif., which will seat 30,000 for their games. Currently the home of the Los Angeles Galaxy of Major League Soccer and the annual NFLPA Collegiate Bowl all-star game, it would be the NFL's smallest stadium by a margin of 26,063 seats.
Ellis said the stadium committee hasn't discussed the Chargers' intent to play in a stadium that would be the NFL's smallest in generations.
"Whatever conversations have been had have been had in private with the commissioner and individual owners," Ellis said. "For right now, I think that needs to be vetted and understood a little bit better before any of us comment on that."
The Chargers' decision removed the Raiders from the Los Angeles equation. They could have only relocated if the Chargers declined their year-long option on joining the Rams at the under-construction stadium in Inglewood, Calif.
Meanwhile, rumblings continue to swirl about the Raiders' potential relocation to Las Vegas. The Raiders have not formally filed for relocation with the NFL, but Ellis said their situation took up "the bulk" of a Wednesday meeting in New York City among owners and ownership repesentatives on the finance and stadium committees.
"They appear to have exhausted all of their options in Oakland," Ellis said. "But I think we ought to let them announce if they're going to apply for relocation or not.
"They've put together a very nice proposal, an excellent proposal, for what it would take to move to Las Vegas. They've been offered a great situation in terms of getting a stadium built. I can't blame [Raiders owner] Mark Davis and [Raiders president] Mark Badain and the whole group over at Oakland for taking that very seriously."
Ellis did say the presence of legalized gambling in Nevada is "not the deterrent" it was in prior decades.
"That discussion and that debate has not really taken place. I'm sure that the commissioner, his staff, the executive committee of the owners -- which is a group of about six owners -- I'm sure they've had these conversations, and I'm sure it will get raised if the Raiders choose to relocate.
"It's become kind of the way of the world here. You're seeing a hockey team [start] there," he added, referring to the NHL's Vegas Golden Knights that will begin play next fall. "I don't know whether there would be a lot of resistance to [Las Vegas], frankly."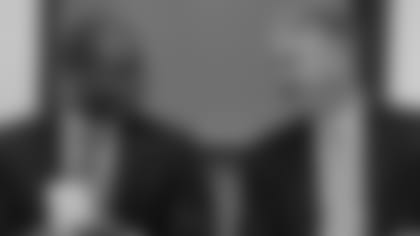 Ellis said that he hoped to see the Broncos' stadium naming-rights issue resolved with a new partner's name on the team's home of 16 seasons before next season begins.
"Maybe it gets into the preseason. We've got to get the right deal," Ellis said. "It's important, as I told everybody last summer, in terms of how we're going fund improvements and repairs and all of that. We've got to get the right partner."
Ellis said the team "got down the road" with some potential partners, but not far enough to come to a deal yet.
"There's a lot of different components that may go into it," he said. "There may be some real estate play involved. Who knows? There's just different components to it that we're packaging.
"We're working with our agency -- WME | IMG -- and they're doing evaluation right now. I'm confident we'll be able to move it along once we get going here."