ENGLEWOOD, Colo. --When you're injured and working your way back, you take help from any spot you can find it.
In 2015, Peyton Manning turned to Jordan Taylor, who ran routes for him as Manning rehabilitated from a foot injury to try to get ready for a playoff run.
In recent weeks and months, rookie tight end Jake Butt leaned on Dustin Little, an assistant athletic trainer who is also the club's Director of Rehabilitation, to help get him back up to speed on his route-running as he completed his recovery from a torn anterior cruciate ligament suffered last December in Michigan's Orange Bowl loss to Florida State.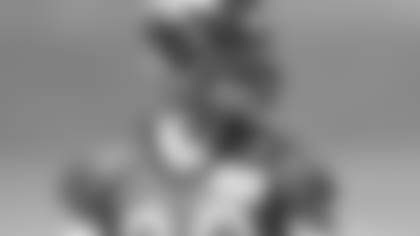 "I don't want the word to get out, because someone might pick up our trainer, Dustin, off waivers. He's been slinging this bad boy around here," said Butt, a fifth-round pick in this year's draft.
"I've got him giving our snap counts. I'm training him. We're talking through coverages and everything."
It's not like practice, but it's the closest Butt has been able to come in preparation for his practice debut next week. That not only marks the earliest possible point that he could begin practicing per the rules of the non-football injury list, but it also comes just over nine months after he underwent surgery to repair the torn ligament.
"[Tuesday] is nine months, and what my doc told me was that nine months was when I was going to get cleared, so even if I do get cleared tomorrow, I've got to wait for the beginning of Week 7 so I can start practicing," he said.
Once Butt begins practicing, the Broncos have a 21-day window to decide whether to move Butt off the non-football injury list and onto the 53-man roster.
"[Tight Ends] Coach Geep [Chryst] just says we're going to [make it] like a parachuter coming in," Butt said. "You want to hit the ground running."
And he doesn't just want to be on the 53-man roster taking up a spot without meriting it.
"I want to make this team," Butt said. "I don't want to be handed a spot. I want to earn this and make this team. I've been having to do that off to the side without the coaches really coaching me and outside of meetings and everything. That's been the hardest part. I want to make this team."
The meeting room and the playbook are the two places where Butt has been able to stay on schedule.
"I still watch film with the guys. I quiz myself. I look at the [practice] scripts every day and make sure I know what everyone is doing," Butt said.
"It's going to be an adjustment, of course, because it's one thing to do it off to the side in your head when you're quizzing yourself, but it's another thing to hear it in the huddle, get out and then make your necessary adjustments depending on the defense."
Between his work in meetings, his study time and his on-field rehabilitation sessions with Little, Butt has done everything he can to be ready for the moment that arrives next week. The rest is up to him.
"I feel good running routes," he said. "I feel good blocking. Everything that we've been doing off to the side, I been feeling really good about."