ENGLEWOOD, Colo. -- **It's Tom Brady and the Patriots offense against the Broncos defense, and Peyton Manning and the Broncos offense against the Patriots defense. Tactically and practically, that is what Sunday's AFC Championship Game is about.
But "Brady-Manning XVII" is on the marquee, and that evokes memories and draws audiences unlike any other pair of players in NFL history.
Whether fair or not, the legacies of the two future Hall of Fame quarterbacks are intertwined. Manning has more touchdown passes, yards, MVP awards, Pro Bowl selections and wins; Brady has more Super Bowl rings and an 11-5 advantage in their head-to-head duels, although they have split the last five meetings and their four postseason matchups.
There has never been another rivalry of unassailably great quarterbacks quite like this one.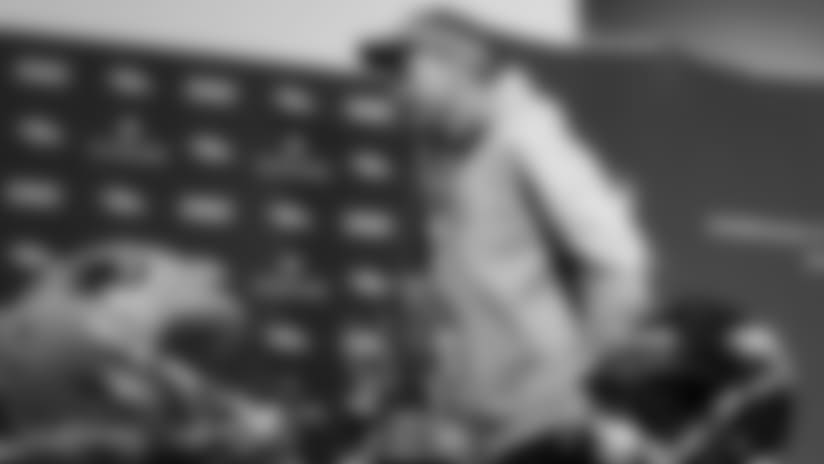 "It's been a great honor and privilege to compete against him that many times in the past 16, 17 years he and I have been in the league together," Manning said.
Their rivalry has no NFL comparison, which is why questions about Larry Bird and Magic Johnson were posed at Manning's press conference Wednesday; Brady-Manning is arguably the only individual rivalry the NFL has ever produced that sits in the class of Bird-Magic, Nicklaus-Palmer, Ali-Frazier and Borg-McEnroe.
Manning didn't want to compare their rivalry to that of Bird and Magic, and admitted discomfort at the notion of it -- although he did admit to having posters of the two "in their very short shorts" on his wall during the 1980s.
"I've felt very fortunate to have played 18 years like I have, and I know how hard I've worked to play this long, so when I look across at the New England Patriots and see that Tom Brady is their quarterback, I just know how hard he's worked, as well, and to play as well as he has over the course of his career, and the success that he's had and the team success, I just have a lot of respect for him -- and he's earned that respect."
The nature of football as a sport generally prevents this, but Brady-Manning is something special. At times they transcended their teams. And the vagaries of schedule-making kept putting them together one year after another. Aside from the years each lost to injuries (Brady 2008; Manning 2011), they have met at least once every season since 2003.
Familiarity did not breed contempt. It cultivated respect.
Said Brady of Manning: "I think just his consistency, the durability, his ability to always seem to come through. He's just been an incredible player, and incredible leader for his team. There have been so many games as a team he's been a part of that they've won. So, you can see that he leads a great team."
Added Manning of Brady: "I've got great respect for the way he plays the position and the way he takes care of himself physically and always answers the bell every single season, every single week," Manning said. "There's definitely high respect from me, and I appreciate some of the things he's said about me, as well."
Plaudits are one thing; what happens Sunday is something else, and this duel will be different than the others.
Brady is still a Pro Bowler; he was selected for the annual all-star game for a seventh consecutive season and 11th in the last 15 years. His 102.2 quarterback rating for the regular season was the fourth-best of his career. He's won 15 consecutive games when he had both Julian Edelman and Rob Gronkowski at his disposal, including all four playoff games in that span.
Manning, meanwhile, struggled with a torn plantar fascia that finally forced him from the lineup in the third quarter of the Nov. 15 loss to Kansas City. Although the Broncos went 8-2 in the games he started this season, his 67.9 quarterback rating and 9-to-17 touchdown-to-interception ratio were the worst of his career.
He has looked better since taking six weeks to rest and rehabilitate the foot, and went 21-of-37 in last Sunday's win over Pittsburgh -- although it could have been 28-of-37 if seven catchable passes had not been dropped. Despite the wind that gusted to more than 30 miles per hour, Manning got 75.7 percent of his throws on target.
Still, this season has been a trying one for Manning, unlike any he has ever known. He admits that he's given thought to his future, and what could lie beyond this season.
But when he was back at the UCHealth Training Center focusing on his rehabilitation to the point that he didn't even travel to one game -- the Week 11 win at Chicago -- he was so locked in that he lived out the old maxim of taking it "one week at a time."
"I really just tried to take it one week at a time and stay in the moment, try not to get too far ahead, try not to assume anything -- any type of finality, any type of, 'Hey, this is what's going to happen in three weeks or four weeks,'" Manning said. "I've truly kind of followed the old cliche': One week at a time, and tried to stay patient, and I think it's served me well."
And now, for the fifth time in his career, he and his team will try to keep their season alive -- but will have Brady and Bill Belichick in their way. The postseason series between Manning-led teams and the Patriots is square at two-apiece; this fifth meeting appears destined to be the fifth set, the 18th hole, Game Seven ... whatever example of sports finality you want to take.
Both sides will be ready -- and they know their foe will be, too.
"There isn't a player [not on] our team that I have any more respect for than Peyton Manning," said Belichick, "so [with] his preparation, his consistency, his skills -- I would never, ever, ever underestimate him under any circumstances."