ENGLEWOOD, Colo. — The end of a training camp practice is usually the same every day, for the most part.
Head Coach Nathaniel Hackett brings the team together around him, he shares his thoughts and assigns position groups to go sign autographs, and then he picks a player to break down the team huddle.
On Friday, there was a new wrinkle, as Hackett called up quarterback Josh Johnson to the center of the circle.
At that point, Johnson shared that a youth football team from his hometown of Oakland, California, was gathered at the southwest corner of the field. Johnson organized the Oakland Dynamites' visit to practice because five days earlier, there was a shooting at their game at Oakland Tech High School. The Bay Area's ABC7 News reported that three people, including a 5-year-old, were shot.
As it so happens, the Dynamites had a previously scheduled series of games in the Denver area over the weekend, but Johnson made sure they were all also able to attend the Broncos' practice on Friday.
So after practice, when Johnson spoke to his teammates, he simply asked that they take a moment to welcome the dozens of Dynamites players and their families.
"For a lot of the kids, that's a traumatizing situation," Johnson said after practice. "So what else is better than to come out to practice and literally meet some of the greatest players in the world? And every guy just taking their time out and shaking their hands. Some guys gave 'em cleats. Some guys gave 'em gloves. Some guys signed autographs. That, to me, cures that. Heals that. Because you never know what last week's situation could have did to some of those kids, but now they got to experience this. It gives them that joy back to playing that game that they love."
Many of the Broncos' biggest names were among those that visited with the kids, signing autographs and taking photos with them. Bradley Chubb took off his cleats, autographed them and gave them away. Russell Wilson stopped by for autographs, too, and took a group photo.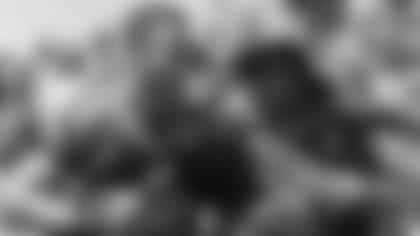 Dynamites athletic director and 12U coach Jeff Cotton said the kids' reaction was exactly what he hoped.
"This is something where their eyes lit up, seeing all the players and Russell and everybody else that was a part of it," Cotton said. "For them, it was very exciting, and it's a big thing for them. I'm happy for them."
In addition to giving the kids a positive experience after Sunday's tragedy, Johnson and Cotton said they hope that experiencing and NFL practice can give them something to strive for, especially with an Oakland native like Johnson for them to connect with.
"That's the whole point of why I do what I do at home with my family," Johnson said. "[It] just allows them to see — 'We're just like them, started like them.' … You can still make it from where you're at and then go out and pursue these great things in life."
Now preparing for his 15th season of professional football, Johnson holds his Oakland roots dear wherever he goes, and he consistently aims to make an impact there when he's home — and often even when he's not.
"It's my heart, it's my soul," Johnson said of his hometown. "It's what got me to where I'm at today. So I feel like I owe that place a lot. It's just ironic that God has blessed me with the ability to figure out how to do what a lot people want to do, still be at home and still have a successful career, be active in the community, be a face people get to touch, feel and see but still get to pursue my dreams. It means everything to just be a part of a positive impact on those kids in my community."
Cotton, who was Johnson's first-ever football coach, has seen that dedication firsthand, and to see the person Johnson grew to become has not surprised him in the least.
"He's been a great influence on the kids," Cotton said. "Whenever he's at home, he works with them, takes care of them. … He was like that when he was a kid. His family roots take him back there. So for him to grow up like this and always want to give back, [it means a lot]."
On this day, that Oakland kid's roots came to him instead. In the process, he made a day unlike any other for so many like him.