ENGLEWOOD, Colo. -- **Great cornerbacks often do their best work alone.
It's what the Broncos did for 10 seasons with future Hall of Famer Champ Bailey: they lined him up outside, often against an opponent's best receiver, and tasked him with locking down that receiver, often without safety help. That freed safeties like John Lynch and Brian Dawkins to attack the run, wreak havoc on routes across the middle and make multiple Pro Bowls as Broncos.
And that's what they want to do now with their Pro Bowl cornerback tandem of Chris Harris Jr. and Aqib Talib: use their coverage skills to give others opportunities.
"[The defense] is going to rely a lot more on me and Talib to make a lot of plays. We're going to be out there on an island a lot. It's a lot of responsibility on us to be able to shut our guys down."
"Everybody else is going to be a lot more aggressive," Harris added later. "I'm pretty much going to be on an island, I've just got to cover my man a lot in this defense. "
Harris had those "on an island" opportunities under former defensive coordinator Jack Del Rio, he said, but expected "even more" with more aggressive tactics from Wade Phillips.
But one-on-one coverage is only part of Harris' 2015 repertoire.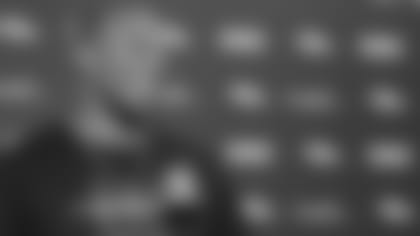 Harris will still line up against the slot receiver when the Broncos go into their nickel package. From that spot, he can show the aggression that helped him grow from being an undrafted rookie in 2011 to a Pro Bowler with a new five-year, $42.5 million contract at the end of 2014.
"In the slot, I'm still going to be blitzing, playing man, doing everything that I've always done in the past," Harris said.
And that's where a buzzword for the new defense comes into play: "Activate."
"I'm excited for Wade Phillips to 'activate' me to make a lot of plays," Harris said. "Hopefully it means, 'Call my number to go make a play, be able to blitz, do everything.'"
Two things still rankle him about last season: that it ended short of the Super Bowl, and it concluded against the Colts without the chance to cover Indianapolis' elusive T.Y. Hilton, who gashed the Broncos for 72 yards on eight receptions while Harris allowed just one catch, to Donte Moncrief for 22 yards.
"I mean, that's what God put me on this earth for: for guys like [Hilton]," Harris said. "I was definitely irritated. But it's a new year. We're going to play him again, so I'm pretty sure I'll be on him this year."
And if his year-to-year improvement continues, Harris is poised to get the best of that matchup -- just as he did repeatedly throughout a season in which he did not allow a touchdown.
That's what lockdown cornerbacks do. That's what Bailey did. That's what Harris -- who inherited Bailey's old locker-room stall -- now does. And that is what can allow the Broncos' safeties to attack, supplement the front seven and create chaos for opposing offenses.