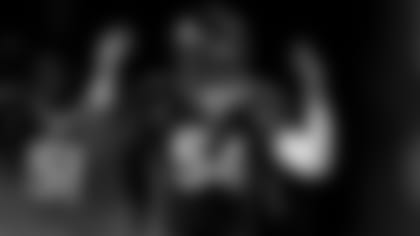 ENGLEWOOD, Colo. --Inside linebacker Brandon Marshall is be "day-to-day" after suffering a hamstring strain against the Houston Texans on Monday night, Head Coach Gary Kubiak said at his day-after-game press conference Tuesday afternoon.
If Marshall cannot play, Corey Nelson is expected to fill in for him. Nelson entered in the second half, and was responsible for relaying the calls in the huddle, as he wore the green-stickered helmet with the radio receiver.
"Corey's done a good job," Kubiak said. "He's always played some in our sub packages. Obviously he played more last night."
Nelson, who played a season-high 18 defensive snaps against the Texans, competed with Todd Davis for one starting inside linebacker spot in the offseason and preseason, with Davis eventually winning the job.
"Corey's kind of like Todd in a lot of ways," Kubiak said. "Corey's a guy who's being working hard, waiting for an opportunity, and I thought he did a really good job with it last night, and may be called upon again.
"We trust Corey. He's a fine young player."
Outside linebacker DeMarcus Ware is expected to return to the practice field this week. Ware has not practiced since suffering a fractured forearm in Week 2 against the Colts.
... Wide receiver Cody Latimer passed the league-mandated post-concussion protocol before Monday night's game, but the team opted to deactivate him even though he was available. With Latimer inactive, the Broncos played with five wide receivers and three tight ends for the first time this season.
... Outslde linebacker Dekoda Watson is "fine," Kubiak said. Watson had left Monday's game to be evaluated for a possible concussion.
... Defensive end Derek Wolfe played on despite suffering a dislocated finger in the third quarter. Wolfe said he suffered the injury when his hand collided with Jared Crick's helmet, while also dealing with a cramp in his calf muscle at the time. He was treated on the field and returned later that series.
"When I went down on the field, I went to jump over Crick, and my calf just locked up on me," Wolfe said. "And then I dislocated my finger on his helmet, so I was like, 'Yeah, I'm just going to lay here a minute, and let this calf calm down, and pop my finger back in,' and then I was good."
The Broncos bounced back after a two-game losing skid to defeat the Houston Texans, 27-9 at Sports Authority Field at Mile High. (Photos by Eric Bakke, unless noted)