ENGLEWOOD, Colo. --Aqib Talib was ruled out for Sunday night's game at Oakland after missing his third consecutive day of practice Friday because of an injury to his lower back.
"What's going on right now [is that] he has good days and bad days," Head Coach Gary Kubiak said just after Friday's practice. "He's going to get an injection today -- he may have already had it as we're speaking -- and we're letting it calm down over the weekend.
"But he's doing good. So we feel good moving forward."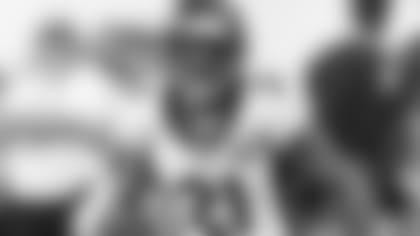 Talib was in California on Thursday for a second opinion on the back injury, which kept him out last week against San Diego.
"We've just got to do the right thing, and with the injection that he's getting today, the smart thing is to give him a good weekend of rest and see where we're at when we come back."
Kubiak said the team has not decided whether Talib will travel with the team this weekend.
"I don't know if traveling is going to be the best thing [for him]," Kubiak said. "We'll see."
Cornerback Kayvon Webster (hamstring), center Matt Paradis (hip) and inside linebacker Brandon Marshall (hamstring) are listed as questionable for Sunday, but Kubiak expects all three to play.
Webster and Paradis did not practice until Friday. Paradis is receiving rest days during the week, and is expected to remain on that schedule for the rest of the season.
Marshall practiced all week after missing last Sunday's game. Running back Devontae Booker also made it through this week's work despite dealing with a shoulder that is sore because of a first-quarter injury last Sunday.
"He's good. He's done everything in practice," Kubiak said. "It was pretty sore early in the week, but everything's been good."