ENGLEWOOD, Colo. --As expected, CB Aqib Talib and DE Derek Wolfe were ruled out for Sunday's game at New Orleans.
Talib will miss his third consecutive game because of a lower-back issue that necessitated a second opinion and an injection last week. Wolfe will sit out after injuring his elbow in the third quarter last Sunday against Oakland.
Both will travel with the team to New Orleans, and Head Coach Gary Kubiak expects them both to return for the post-bye game against Kansas City on Nov. 27 as long as they remain on course in their recoveries.
"I sure as hell hope so," Head Coach Gary Kubiak said. "I think they're both close. I think we're lucky with Derek, and Aqib has kind of been trending in that direction the whole time."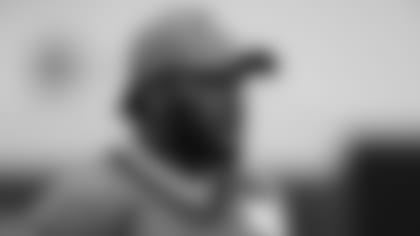 Every other Bronco had a full practice workload Friday, including cornerback Kayvon Webster and safety T.J. Ward. Webster has recovered from a hamstring injury that kept him out last Sunday, while Ward dealt with an illness this week that sidelined him Wednesday.
"Kayvon's had a good week. He's ready to go," Kubiak said. "He was close last week, so we really need to get him back."
Center Matt Paradis also practiced after receiving two rest days because of a hip issue; he is expected to play Sunday. Paradis has not missed an offensive snap in any game the last two seasons.
Quarterback Trevor Siemian continues to deal with a sore shoulder, but is "fine" and ready to go, Kubiak said.
"As a matter of fact, he's had a really good week. He needs to play well," Kubiak said. "Obviously, we've all got to play well, but yeah, I think he's feeling good."
The Broncos held Friday's practice inside the Pat Bowlen Fieldhouse, working without helmets.
"We still wanted the noise, but we've had a good week and we need to be good and fresh for this football game," Kubiak said.