ENGLEWOOD, Colo. --After his second practice since suffering a sprained right foot at San Diego on Dec. 14, it's still wait-and-see for weakside linebacker Brandon Marshall.
The Broncos' leading tackler in the 2014 season was the only player on the 53-man roster listed as limited as the Broncos resumed preparations for Sunday's divisional-round showdown with the Indianapolis Colts.
"I feel all right, man. I feel okay," he said. "I've just got to work through the kinks, just keep working out there, and it'll be better."
Marshall also practiced Monday, and when he was asked whether he could make every cut that he could before the injury, he was noncommittal.
"I mean, we're going to see. We're going to see," Marshall said. "I'm not going to say it's 100 percent, but it's getting there. It feels pretty decent. I've just got to keep going out there, keep working, and we'll see what happens."
Marshall admitted that he did not know if he would attempt to play if Sunday's game were a regular-season contest.
"I don't know if I want to answer that question," he said, with a knowing chuckle and reciprocal laughter from the media that surrounded his locker-room stall Wednesday afternoon. "We're going to move on to the next question."
It is now 22 days since Marshall ditched the walking boot that he wore immediately after suffering the injury in the first half of the Broncos' 22-10 AFC West-clinching win. He focused on rehabilitation work in the three weeks that he did not practice, which included on-field work with a strength-and-conditioning coach during practice on Christmas Day, three days before the regular-season finale.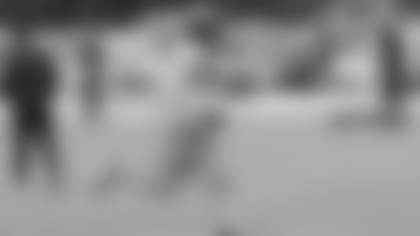 In addition to Marshall's return this week, the Broncos welcomed back safety David Bruton Jr. and left guard Orlando Franklin. They were cleared through the league-mandated post-concussion protocol and practiced with no limitations Wednesday.
Bruton and Franklin's presence ensured 100 percent participation at practice among players on the 53-man roster for the first time since Oct. 3. Perhaps not coincidentally, that was the last practice after the Week 4 bye.
"I think the (first-round) bye came at a good time for us," quarterback Peyton Manning said. "It gave some guys a chance to get healthy."
Bruton and Franklin suffered their concussions against the Oakland Raiders on Dec. 28, and did not resume on-field conditioning work until Monday, when they worked out with strength-and-conditioning coaches without wearing their helmets.
Wednesday, both wore their helmets as the Broncos conducted a full-pad practice outside in 16-degree conditions (-9º Celsius).
"It was great," Head Coach John Fox. said. "Great to be outside, working in a little bit of conditions today. We'll see what the conditions will be Sunday but you never know and I thought it was good work for us."
Manning also practiced once again, and was listed as having full participation on the injury report. He returned to the field Monday after sitting out the two sessions last week to rest his injured thigh.
"I feel pretty good physically," Manning said. "Like all players, I've battled through some injuries."
---
Do you have a question for Andrew Mason? Ask it here and you might be in this week's Mailbag!
---
Emergency Room Care/ Denver ERs
The HealthONE System of Hospitals now offers you and your family convenient ways to find the closest HealthONE ER and average wait times. HealthONE's Fast LocatER is our mobile suite of tools that you can take with you on the go.
Our 24/7 Emergency Rooms for adult and pediatric patients are prepared to serve your medical emergencies. Get our average ER Wait Times by texting "ER" to 23000. Standard message and data rates may apply.
Phone Service

Prefer to call? Just dial 720-523-3888 and enter your zip code, and you will receive our closest HealthONE ERs.


Check out photos of the Broncos as they prepare for Sunday's AFC divisional-round matchup against the Colts.