ENGLEWOOD, Colo. -- **Omar Bolden's season is expected to end this week when the Broncos place him on injured reserve because of the partially torn knee ligament he suffered in the first quarter of Sunday's win over the Steelers.
"We'll have to replace him," Head Coach Gary Kubiak said. "We don't quite know which direction we'll go yet, so we'll deal with that here over the next couple of days."
The Broncos could opt to promote one of their practice-squad players to the 53-man roster.
"John [Elway] and I just talked about that a few minutes ago," Kubiak said at his Monday press conference. "We've got to make sure that we're in position. We're banged up at a couple of spots; Chris [Harris Jr.] is banged up right now, so we've got to take care of ourself from that standpoint, especially this week.
"But at the same time, too, you like to reward some of your young guys that have been working really hard for you all year long."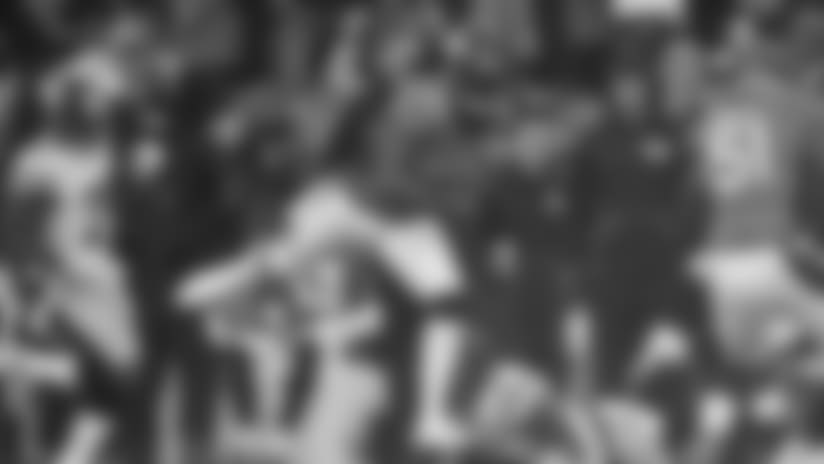 Bolden's injury came on the heels of his recovery from a pulled hamstring that sidelined him for the final four regular-season games.
His absence creates a void on kickoff and punt returns. Bolden was the Broncos' most explosive returner throughout the season, and put an exclamation point on his work with a 42-yard punt return Sunday to set up the Broncos' first points of the day on a 28-yard Brandon McManus field goal.
"It's just some bad luck right there, so we'll miss him," Kubiak said.
With Bolden out, the Broncos used Andre Caldwell on kickoff returns and Jordan Norwood on punts.
WHILE BOLDEN'S SEASON IS OVER,the Broncos expect to have Chris Harris Jr. available despite the shoulder injury through which he battled Sunday.
"He came out fine. I don't think anything got any worse," Kubiak said.
"He went out there, gutted it [out] and played with one arm in a lot of ways. He battled for our team. Hopefully there's some improvement there physically."
Harris started, but his role changed to working sub-package snaps to help ease his discomfort. Bradley Roby became the every-down cornerback, with Harris working as the No. 3 in the slot.
The Steelers' extensive use of three-wide receiver sets ensured that Harris was still busy; he played 47 snaps, just five fewer than Roby.
"I think Chris will be able to go. It's just something that he's trying to work through for the team," Kubiak said. "He did everything he could yesterday; I'm sure he will this week."