DENVER --The notion that the Broncos "won ugly" was rubbish. Sunday was only "ugly" if you disdain defense.
But if you're fond of the play on that side of the line of scrimmage, then the ferocity, speed, anticipation and brute power evident from both defenses in the Broncos' 19-13 win over the Baltimore Ravens was your kind of football. It hearkened back to the 1970s, when defenses had such an advantage that the rules had to be overhauled by 1978.
Eras like that one are unlikely to happen again -- at least not to that degree. But if anything, Sunday's game was one of the most remarkable in recent years because it bucked the league-wide trend. Given the Broncos' recent history, it was particularly notable.
It was old-school, bare-knuckles football, devoid of subtlety or finesse. No Week 1 game had seen fewer combined yards from scrimmage by both teams (392) since the Buccaneers and Cowboys slogged to 390 yards between them on Sept. 9, 2001. From that day through the 11 a.m. MDT kickoffs Sunday afternoon, 216 regular-season openers were played without another defensive struggle like that one.
It was a street fight. And against a team renowned for its physicality and aggression, the Broncos won it, revealing just how thoroughly their identity had been altered.
"To me, we have been working toward a mindset that we can win games this way -- physically, as a football team," Head Coach Gary Kubiak said. "And to walk out of here today and get it done the way we got it done, that's why I'm so proud of this team, and it took everybody we had."
If this team goes down, it will do so "kicking and screaming," just as Executive Vice President/General Manager John Elway vowed eight months ago.
"Awesome. It was awesome," said inside linebacker Brandon Marshall. "It was one of the first games we've won like that since I've been here, and it felt great to say the defense won the game for us and we put our offense in great positions, and we put ourselves in great positions. I just think it was a great day."
Yes, the offense has to improve, and its players and coaches know it. Even with an elite defense capable of neutralizing its foes, you're not going to succeed in the long term with averages of 3.2 yards per play and 1.2 points per possession, even when those numbers come against a ferocious defense.
But it's been a long time since the Broncos played in a game quite like Sunday's: eight years and 361 days, to be exact. On that sunny Week 2 afternoon in 2006, the Broncos edged the Chiefs 9-6 in overtime in the club's first game without an offensive touchdown for either team in nearly 14 years.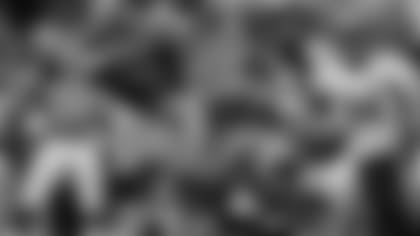 The dominance was clear; Baltimore didn't run a play inside the Denver 25-yard-line until 63 seconds remained in the game.
But it wasn't until Darian Stewart came down with an end-zone interception of a pass intended for Crockett Gillmore with 28 seconds remaining that the Broncos' defensive masterpiece was sealed.
"I knew they were going to go to their tight end," said safety David Bruton Jr., who was in coverage on the clinching play. "(Gilmore) is a big target; he's made plays throughout the preseason. They went to him on the fourth down (earlier on the drive), so I felt like they probably had something. So I was just playing for that, and if he ran it out, he ran it out. I was going to take care of that middle read."
It was just the final example from a day on which it seemed the Broncos had someone in the Ravens' offensive huddle. But one play before the final interception, the Broncos' hopes nearly tumbled to earth as they watched a Flacco pass sail toward a waiting Steve Smith Sr. in the end zone.
"I'm not going to lie, I was like, 'Oh my God. We are -- fortunate for that,'" Marshall said, pausing after the first letter of "fortunate" in a sly implication that he thought of something more truculent.
"(Bradley Roby) undercut it, but I saw he undercut it too much, and I saw the ball sail, and I was like, 'Scoot back, scoot back,' and he put his hand up right in time."
Added Harris: "I was just like, 'Aw, please, Rob, make that play.'"
And just like on so many other defensive snaps Sunday, the play was made.
"The only thing that matters is that (Smith) didn't catch it," Marshall said. "Everybody needs a little help."
Games like Sunday's — with no offensive touchdowns -- were once semi-common; the Broncos had five of them between 1986 and 1992, encompassing the last three years of Joe Collier's celebrated run as defensive coordinator and the first four of Wade Phillips' initial Broncos defensive stewardship. But as offenses became more potent, the tenor of the sport changed — along with the Broncos' identity.
Football in Denver was once defined by wins like this. Some of the scores from the Orange Crush's disco-era heyday reflected that: 7-0, 14-7, 14-6, 16-3, 10-0, 7-0. But all of those had something that was missing Sunday: an offensive touchdown for one side.
With the Broncos trailing and the offense reeling late in the third quarter, the defense knew it might have to make it happen on its own.
"That's what we were saying: we need a turnover, we need a spark," said cornerback Chris Harris Jr. "Sometimes, Peyton (Manning) needs that spark. He needs us to make a play to help get him going, and that's what we were able to do."
Added Bruton: "Oh, yeah. We said we were going to have to get a turnover. But that's our mentality regardless -- we're going to get a turnover; we're going to have to make the big play. That's just our mindset all the time."
Enter Aqib Talib, who read Joe Flacco perfectly as he threw under pressure from Marshall and DeMarcus Ware, grabbing an errant pass and weaving 51 yards through the befuddled Ravens for the score that put the Broncos in front to stay. The next time the offense got the football, it marched 81 yards in 17 plays, consuming 10 minutes and 56 seconds. Manning completed all five of his passes on the drive for 38 yards, and the ground game carried the rest of the load.
Meanwhile, the defense rested and readied for what would turn out to be its final, successful stand.
"That's what we needed, man," Harris said. "Peyton sometimes needs that spark. It's a totally new offense for him, so he's going to lean on us, and we can handle it."
At some point, the pendulum will swing back. The Broncos now know they can win games like this. But eventually, they'll be in a shootout.
"I mean, we've got a long ways to go," Harris said, laughing. "It's just that in this particular game, he had to lean on us. Against Kansas City, I expect Peyton to come out on fire."
Eventually, the Broncos expect the offense to catch up. Manning reiterated Sunday what Elway said last month: the offense is a "work in progress." And progress can be painful.
But Harris admits the defense can improve, as well. And if it does, it will be because the depth in which it trusts will improve with more experience.
That trust is already there. With the clock draining of seconds and the Broncos trying to hold off the suddenly resurgent Ravens at midfield in the final two minutes, they entrusted their edge pass rushing to first-round pick Shane Ray and second-year player Shaquil Barrett, who came into the game with a combined zero regular-season snaps.
It's not going to be the starting 11 who make the defense go. The entire unit will. Every defensive player in uniform had multiple snaps. Todd Davis and Corey Nelson relieved Marshall and Trevathan at key moments. The defensive linemen shuffled around, with Sylvester Williams, Darius Kilgo, Antonio Smith and Vance Walker all taking their turns at nose tackle.
"That's what it's going to take," Harris said. "We're going to need everybody on the D-line to make plays, to keep Von (Miller) and (DeMarcus) Ware fresh. That's the key, man -- having a lot of depth."
And the willingness to run the same defense with different personnel matters, as well. Phillips was as willing to blitz with his reserves as his starters -- and as willing to dial up pressure in the final moments as in the first quarter.
"It's a little nerve-racking. But at the same time, we have full confidence in our abilities and full confidence in Wade to call a great defense and our players to play, our rushers to rush and our coverage guys to cover," said Marshall. "And we got it done."
They got it done, all right -- in a way the Broncos had not experienced in ages.
Aqib Talib and Darian Stewart's interceptions helped lead the Broncos to a 19-13 win over the Ravens.