BOCA RATON, Fla. --Replacing Peyton Manning, the team leader is potentially more difficult than replacing Peyton Manning, the quarterback.
By the end of last season, it was clear what Manning was at quarterback; hindered by a foot injury and the accumulated effects of 18 NFL seasons, he was not what he was in his prime. But his leadership, command behind the line of scrimmage and ability to rally his teammates in the huddle, the locker room and beyond was as strong -- if not stronger -- than ever.
"Those guys walk in that locker room this year, and he's not down there at that end. A lot of guys leaned on him from a leadership standpoint -- a lot of people in the organization, not just the players," Head Coach Gary Kubiak said. "So, yeah, that will definitely miss, and that's a big locker to fill. I think we all understand that."
It's obvious that whoever becomes the next starting quarterback will help fill that void. Outside linebacker DeMarcus Ware is also expected to take on a greater leadership role than the already expansive one he's held the last two seasons.
But that can't be all, and Kubiak already knows some of the players he wants to see fill the void.
"DT [Demaryius Thomas] and Emmannuel [Sanders] -- now it's time for them to lead people," Kubiak said. "Peyton's been there for DT for a few years and for Emmanuel a couple of years, so it's time for them to take on that role.
"C.J. [Anderson] is in that position now. I think Matt Paradis is a second-year player that has become a leader on our football team."
There are others on defense beyond Ware, and Kubiak said he sees potential leadership "all over the place" on that side of the football.
"We know about Von [Miller]; we know about DeMarcus," Kubiak said. "But B-Marsh [Brandon Marshall] is a big leader; he has been a big leader on our team."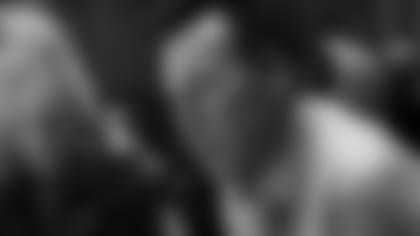 Manning isn't the only leader who needs to be replaced; the free-agent departure of David Bruton Jr. stripped the Broncos of their special-teams captain from the last two seasons. His status also helped him provide leadership for the defense when he stepped in and played extensively in the dime sub package last year.
But there are candidates there, as well, just like on offense.
"Our whole [secondary] are leaders from that standpoint," Kubiak said. "You look at Todd Davis, and the year he had on special teams."
Davis could start at one of the inside linebacker spots, as well. He, like a host of other Broncos, must do more this year if the team is to have a chance of making its third Super Bowl trip in four years.
"I would say [future leaders] are in place, but there are some guys that maybe need to take on a bigger role than they have in the past," Kubiak said.
Executive Vice President of Football Operations/General Manager John Elway and Head Coach Gary Kubiak are in Boca Raton, Fla. for the NFL Annual Meeting. (Photos by Andrew Mason)