DENVER --Let's face it, Brock Osweiler has the name that launched a thousand puns.
In the last two weeks, you've heard them all if you've been following the Broncos' fortunes closely.
But there's one that describes what he was in the fourth quarter and overtime Sunday night as a graceful light snow fell on Sports Authority Field at Mile High: Bossweiler.
With a 21-7 deficit early in the fourth quarter, Osweiler helped rally the team together. With a 21-17 deficit, 2:30 remaining and now timeouts left, he fired two deep completions in three plays to move the Broncos into goal-to-go, setting up a 4-yard touchdown pass to Andre Caldwell that put the Broncos in front.
And in overtime, after Tom Brady's end-of-regulation heroics ensured Osweiler would need to turn in a repeat performance, he drove the Broncos into New England territory, and then changed the playcall at the line of scrimmage into the sweep around left end that sent C.J. Anderson galloping up the left sideline and the 75,617 on hand into bedlam not seen at Sports Authority Field at Mile High in six weeks shy of five years.
These were comeback or game-winning drives Nos. 1 and 2 for Osweiler. They might be the first of many. They will definitely be long remembered by the Broncos, as they provided the team one of its finest regular-season wins in recent memory.
In one fell swoop, the Broncos ...
... snapped a 13-game Patriots winning streak dating back to last year's postseason;
... improved to 8-6 all-time against the Patriots when Brady starts, including 6-2 in Denver;
... surged back into the race for the AFC's top playoff seed, with control of a head-to-head tiebreaker against the Patriots, who maintain a one-game lead;
... kept a three-game lead over the surging Chiefs, who have won five consecutive games and could win another five more because their next five foes are a collective 18-35;
... clinched their 28th winning season, including the fourth in succession;
... and gained more confidence in Osweiler as he continues to replace the injured Peyton Manning, who will miss at least one more game because of a plantar fascia tear.
All three phases contributed. The pass rush ultimately flustered and corralled Brady; the special teams pounced on a muffed punt return to galvanized the Broncos early in the fourth quarter, and on offense, the running game had its best day of the season.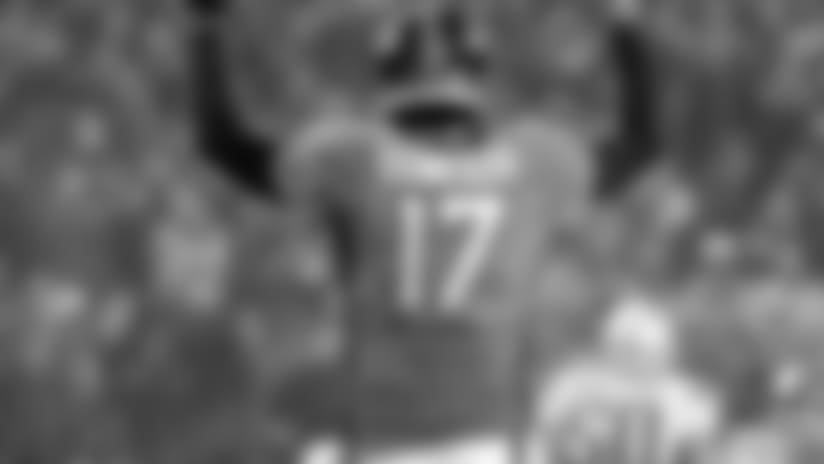 But with the Broncos trailing 21-17 with 2:31 remaining in the fourth quarter, it all came down to whether Osweiler could lead his team down the field.
As the defense saw him stroll onto the field, its members believed that the next time they took the field, Osweiler and the offense would allow them to play with a lead.
"He looked like a seasoned vet out there," ILB Brandon Marshall said. "Brock is taking strides well and [Head Coach Gary] Kubiak has done a great job with him. The guy looks like he's been here before and he's doing well."
Looks like, yes. But he'd never faced a bigger possession in his pro football life: facing a four-point deficit with 83 yards to cover and no timeouts remaining.
Yet Osweiler oozed command and confidence, just like he did when he stepped into the huddle for his first start a week earlier in Chicago.
"This is only his second start, and he's very emotional. He's pumping the team up," Caldwell said. "You can't help but follow a guy like that -- someone who always believes and is confident in himself."
The quality of the opponent and the frenzy of the moment were both a bit different than he faced at Soldier Field, but he remained unruffled and responded to what the Patriots defense conceded.
On the first play of the drive, that meant throwing to Demaryius Thomas up the right sideline on a go route. Thomas had endured arguably the worst game of his career to that; he'd dropped multiple passes and failed to catch any of the first 11 passes targeted for him.
But Osweiler looked to him again, and he won the jump ball against Logan Ryan for a 36-yard grab. One play and the Broncos were out of purgatory, into Patriots territory and well on their way to the touchdown they needed.
Osweiler wasn't going to lose faith in Thomas, who has been a big part of many wins as a Bronco -- and will be again. Just because it wasn't his night wasn't a reason to give up on the perennial Pro Bowler, who despite his performance Sunday still remains on pace for a 105-reception, 1,326-yard season.
His drive late in regulation was about exposing one-on-one matchups on the outside but in overtime, it was about seeing the Patriots packed together and checking to a sweep to the outside.
After taking a timeout, Osweiler went to the line of scrimmage, saw New England's defenders bunched with only Malcolm Butler outside the hashmarks to his left -- and he changed the call.
It was perfect. Vernon Davis sealed the left edge, Ryan Harris got out in front and blocked Butler, and Anderson had nothing in his sight but snowflakes and delirious fans celebrating their team's win. It was the kind of pre-snap call that an on-field boss makes, and makes well.
"It was a check that we had worked on all week in practice," Osweiler said. "We were trying to run the ball [to the] weak [side]. They gave us a specific defensive front that we can't run that ball into, so I checked to our second play that we called in our huddle. The line did a hell of a job and [RB] C.J. [Anderson] did the rest."
It was the kind of call that Manning has so often made. Osweiler has spoken repeatedly of how much he's learned from Manning; now he's showing it on the field.
For however long Manning's absence lasts, the Broncos are in good hands. Osweiler's quarterback rating is 88.4, and although he must learn to take fewer sacks than the 11 he has absorbed, he played with the composure of a 10-year starter on Sunday.
He might still technically be a fill-in, but on Sunday night, Osweiler was a boss -- and he led his team to its most stirring win of the year -- which is what matters most.
"Brock has done a great job," Head Coach Gary Kubiak said, "but he'd be the first one to tell you it's always about the team."
And right now that team is in good shape because its poise was a reflection of its young fill-in starting quarterback.
Broncos rally to top the New England Patriots 30-24 at Sports Authority Field at Mile High.