JACKSONVILLE, Fla. -- **The late lapse last week was the exception for Denver's defense in the last two seasons, not the rule.
It's the kind of letdown that happens even to the best of the best. Michael Jordan occasionally missed a potential game-winning shot. Muhammad Ali lost a unanimous decision to Joe Frazier. And last December, the Steelers torched the Broncos for three second-half touchdowns in a 34-27 comeback win.
The Broncos -- and their defense -- recommitted and refocused after that. In each of their next eight games, right on through the following September, the defense made at least one late stand each time. Takeaways in end-game situations became habit: an interception of Philip Rivers or Andy Dalton here, a strip-sack of Cam Newton or Andrew Luck there.
It's too early to tell if the Broncos' crushing home loss to the Chiefs on Nov. 27 will provide the same kind of lingering galvanizing effect for the defense. But in Jacksonville, the unit found itself on familiar ground in the final moments: tasked with preserving a lead that a struggling offense could not extend on its own.
After last week, that's exactly what this defense wanted.
"There was no way that was going to happen again," said cornerback Bradley Roby.
Roby galvanized the defense in the third quarter with his 51-yard pick-six after Von Miller forced a wayward Blake Bortles throw. Fellow cornerback Chris Harris Jr.'s tight coverage on Allen Robinson led to a second-quarter interception when the Jaguars' receiver couldn't corral a deep pass up the left sideline one quarter earlier.
But what defined this defense was its efforts after a 22-yard, fourth-down Blake Bortles scamper whittled the Broncos' lead to 17-10 in the fourth quarter.
The Jaguars gained 65 yards on 12 plays in marching to that touchdown. They mustered just 62 on 20 plays the rest of the way, with Von Miller's pressure on Bortles forcing a fumble that Shane Ray recovered with 1:27 remaining.
In four fourth-quarter series after Bortles' touchdown, the Jaguars never drew closer than the Denver 38-yard line as the defense stopped them again, and again, and again, and once more.
"Last week, we just had brain farts," Harris said. "We didn't execute the call. We had stupid penalties. That's what gets you beat in the NFL.
"Today we just played a lot smarter, more disciplined. Everybody executed the call."
It was an unsurprising aftermath of a loss that left the Broncos' powerful defense asking difficult questions of itself ... and determined to prove that a late fade against their arch-rivals wasn't what they were.
That defeat wasn't just a wake-up call to the defense. It was a siren.
"That was a good loss," Harris said. "Anytime you lose, you don't want to lose. But I think losing to the Chiefs was a good loss for us, to educate us on what we needed to do to finish the game, and how to close out in those situations."
And it reminded the defense of its need to press through fatigue. Its players did so last year, and their best play of the season followed. "I could feel the fatigue in what was going on but we played though that," Kubiak said. "We pushed ourselves though that and found the juice; that's what you have to have in his league."
"We were definitely fatigued," Harris said. "I would say almost everybody looked tired. But it's that time of the season. That's where you've got to fight through it and be mentally strong and be able to finish out the season strong."
And, Harris believes, stronger than ever.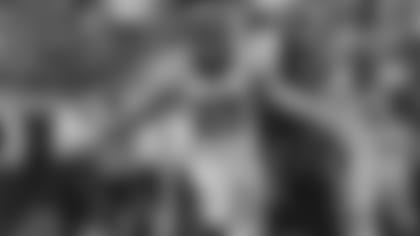 "This team right now, I like where we're at," he said. "We haven't played our best game yet. That's scary.
"You look around at a lot of teams, they've played their best games. They're hot. A lot of teams are hot. We haven't gotten there yet. That shows us we have a lot of improvement to make."
One win over a 2-10 team doesn't make the Broncos hot just yet. But Sunday's stand in the warm north Florida sun warmed them up just a bit.
They'll need to warm up more to pass the sternest possible test down the stretch: four games against teams that are a combined 35-13. And if the Chiefs beat Oakland this Thursday, every Broncos opponent that remains will be in at least a tie for first place in its respective division.
"It's going to be tough," Harris said. "There's a lot of football left. This is the time where I try to turn my game up. Everybody else tries to turn [their] game up. We're ready, man."
The Broncos grabbed a 20-10 win over the Jaguars behind a solid defensive performance.(Photos by Eric Bakke, unless noted)