DENVER --When you hold an opponent to a mere 2.3 yards per play, outgain them by 184 yards and hold that foe to just 126 yards from scrimmage, you're supposed to win. After all, it had been 44 years since the Broncos lost a game allowing fewer than 160 yards (per pro-football-reference.com) in those years, the Broncos had won all 26 times when their defense was that stingy.
When you hold an opponent to eight net yards and under one first down per possession, you're supposed to win.
These were dazzling numbers to reflect a splendid performance. For the defense, most of the day was defined by "pure domination," as inside linebacker Brandon Marshall put it.
And yet the Broncos still lost, 15-12 to their longtime arch-rivals.
"It's very frustrating. It's upsetting. All those things," Marshall said. "It's definitely something that puts a bad taste in your mouth."
"I'm hot," added cornerback Chris Harris Jr. "We were not supposed to lose that game. We played terrible in the second half, gave them the ball every time. So we've just got to be smarter."
Indeed, this was a loss was completely preventable -- and the Broncos knew it.
It would be lazy to merely call this loss inexplicable, because there were five clear reasons the Broncos tumbled to their third loss of the season.
Getting no touchdowns from four drives that got inside the Raiders' 25-yard line. That ensured the Broncos would finish their two 2015 games against Oakland without an offensive touchdown, and extended their streak of quarters without a touchdown to seven, dating back to the win at San Diego.
"I believe in each red-zone appearance that we were seeing different things," said quarterback Brock Osweiler, who had a 52.5 quarterback rating inside the Oakland 25-yard-line, but a 93.6 rating at all other points on the field. "We were seeing different coverages. We were seeing different fronts and we were running different plays. I don't think that any of them bleed together.
"The biggest thing is, as an offense, that it all starts and it stops with me. I have to find a way to get our offense into the end zone and scoring touchdowns."
The inability to get a ground game going, which allowed the Raiders to rush at Osweiler with impunity -- and also contributed to the failures in scoring range. Four carries inside the Oakland 25-yard-line resulted in a net loss of 10 yards, and the Broncos' per-carry average of 1.6 yards was their worst of the season.
"We have to run the ball better down there," tight end Owen Daniels said. "It has always been our job to run the ball well down there because that helps things out. A lot of times, they will sit back and play coverage so we have to run it and that will help things out."
Two giveaways, including a muffed Emmanuel Sanders punt return that set the Raiders up at the Denver 11-yard line for what would be the game-winning touchdown drive.
"I put this entire game on my back," Sanders said. "If I would have never muffed it, who knows what would have happened. So this one's on me, but what can I do? Just continue to get back in the lab and work."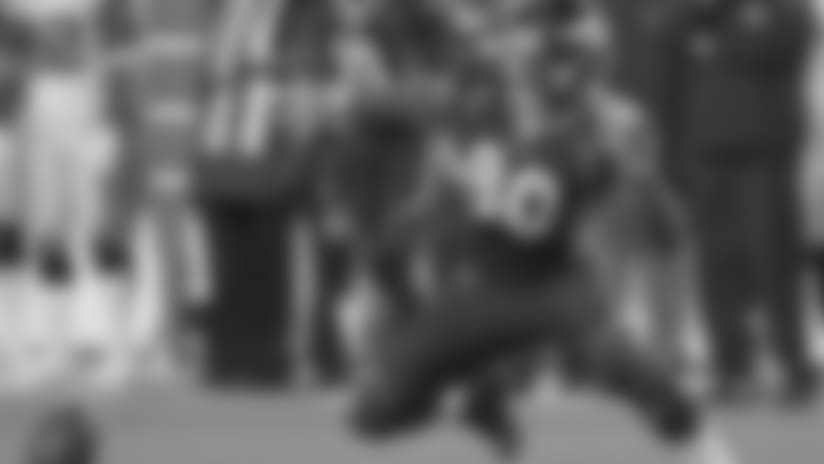 Four dropped passes, including one by Vernon Davis that could have ignited a game-tying or game-winning drive in the fourth quarter.
"I got super-excited, because I knew I was going to be wide open. I took my eyes off the ball and I wasn't able to pull it in," Davis said. "I should know better than that. I've got to get better as a player."
And, finally, Khalil Mack's career game. Some amount of credit must be given to the emerging young pass rusher, who got to Osweiler for five sacks Sunday and provided a statement of intentions for his blindingly bright future.
"I was watching on the sideline and I was like, 'This guy is an animal,'" Marshall said, and after Sunday, no one would doubt him.
But Mack alone wasn't enough to short-circuit the Broncos, and had the offense been able to convert just one of its four trips inside the Oakland 25-yard-line into a touchdown, the outcome might have been different.
"I just feel like we beat ourselves," lamented Sanders, "and we can't do that."
"We beat ourselves." Those three words were a common refrain in the locker room after the loss.
Although the accumulation of injuries over the year forced the Broncos to play Sunday without two starting offensive tackles (Ryan Clady and Ty Sambrailo), their first-team quarterback (Peyton Manning), a starting inside linebacker (Danny Trevathan), a starting safety (T.J. Ward), his replacement (David Bruton Jr.), their primary kickoff and punt returner (Omar Bolden) and their second-leading rusher (C.J. Anderson), this was still a winnable game.
"We can't beat ourselves," Harris said. "It's going to be tough for teams to beat us if we don't beat ourselves."
But on Sunday, the Broncos made it tough on themselves -- and paid the price with a loss that took control of the race for the AFC's top seed out of their grasp.
The Broncos know why they lost. Their championship hopes rest on their attempts to ensure the self-inflicted causes of the defeat don't happen again.