ENGLEWOOD, Colo. --Bill Kollar made sure Derek Wolfe got right back to work.
Neither the Broncos' defensive line coach nor Head Coach Gary Kubiak wanted to hesitate at getting Wolfe back up to speed after he served a four-game suspension for a violation of the league's PED policy. So Kollar put Wolfe through a rigorous workout at Monday's practice.
The session left the fourth-year defensive lineman gasping. But it didn't dull his excitement at being back.
"Just hitting the sled until you're ready to fall over. Just running [around] hoops and working pass-rush moves. He made me do a 200-yard sprint. That was fun," Wolfe deadpanned.
"He had to make sure that I was in shape and ready to go. I'm glad he did it. I'm going to come in [Tuesday] and do another one."
To be prepared to say, "Thank you, sir, may I have another?" to Kollar's grueling workout, Wolfe had to stay in shape. He said he treated the last four weeks like "another offseason," training as hard as possible while avoiding injuries.
During the first week of his suspension, Wolfe worked out with safety T.J. Ward, who served a one-game suspension at the start of the regular season. Wolfe even worked out while his teammates played.
"A lot of times I was actually working out at the same time trying to mimic the game tempo with my workouts and stuff," Wolfe said. "The last two weeks, I kind of backed off of it a little bit because I pushed really hard the first two weeks and backed off a little bit. I got to sit at home, be a civilian for a little while and just watch the game, sit back and enjoy."
It was hard not to enjoy what the defense did in the last four weeks, racking up 18 sacks and 64 quarterback hurries, according to ProFootballFocus.com. And although he loved seeing his teammates in action, he ached at what he was missing.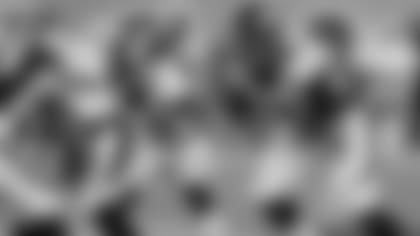 "It was awful," Wolfe said. "I've had to sit and watch before because of injury, but when you're perfectly healthy and you're just chomping at the bit ready to go and you feel the best you've ever felt, there's nothing worse."
Wolfe said he tried to keep in touch with teammates. He sent a group text message out to teammates before games, and said he spent time hanging out with outside linebacker Von Miller at his house.
"We stayed in contact and I'm ready to come back in like I never left," he said.
But he could only do so much, and he couldn't even take his playbook iPad with him during his suspension.
"All that I could get was from what the guys would tell me was going on," Wolfe said. "But for the most part, nothing's really changed."
Except that the Broncos now have one more starting-caliber defensive lineman at their disposal. The Broncos can carry Wolfe without releasing another player for a week, but Kubiak expects to use Wolfe against the Raiders.
"It's up to us to decide whether he'll be ready to go this week, but my expectations are that he will," Kubiak said. "It will be a big week of practice for him and it's great to have him back."