ENGLEWOOD, Colo. --The news could have been worse for linebacker Nate Irving, who suffered a sprained right knee in Sunday's loss at New England. But as Head Coach John Fox noted, "it's very early," so medical evaluations will continue, and a contingency plan is forthcoming.
The Broncos are not without options, even though their overall linebacker depth is now stretched thin with Danny Trevathan sidelined another five games before he can return from injured reseve in Week 15.
But replacing Irving could be a collaborative process, a glimpse of which is already on film: using Corey Nelson as a linebacker in the nickel package next to Brandon Marshall. Nelson first assumed that role in Week 6 after Danny Trevathan's second leg injury of the year, His work in that 31-17 win over the New York Jets was extensive, and he led the Broncos in total tackles with seven.
But after playing 36 snaps against the Jets, Nelson played 41 in the three games that followed. Meanwhile, Irving's repetitions increased, to the point where he played 108 snaps in the last two games, as Defensive Coordinator Jack Del Rio used him next to Marshall in the nickel package, to provide more thump across the middle and against the run.
Nelson could return to the type of sub-package workload he received against the Jets. But in the base package, the next man on the depth chart is Steven Johnson, the Broncos' second-team middle linebacker, one spot ahead of rookie Lamin Barrow.
Johnson missed the last two games with an ankle injury, but he ran during conditioning drills on the field before Sunday's game and says he will be ready to return at Oakland.
"For sure, I'm going to be back this week," he said.
It's just in the nick of time, both for a defense that could use the third-year veteran's experience and a special teams that had a coverage breakdown, leading to Julian Edelman's 84-yard touchdown.
Fox noted that the punt-coverage team had three new players on the field. Johnson, one of the team's key special-teams leaders -- and the Broncos' highest-rated special-teamer on ProFootballFocus.com's metrics, other than a kicking specialist -- could only watch helplessly from the sideline.
"That was real tough," Johnson said. "I take pride in the special teams, always trying to be the first one down there to make a play. I try to treat myself like a gunner, even though I'm coming from the interior.
"I just wish I could have been out there to make the difference, because I believe in my ability to be able to stop somebody like that. That's why I've got to get back this week. I don't like feeling this way anymore. I'm in the training room talking to 'Greek' (Head Athletic Trainer Steve Antonopulos), and I'm like, 'Hey, Greek, what have we got to do? It's time to go.'"
Missing the last two games rankled Johnson, a player who prides himself on being near the coaches, so they can easily insert him into the lineup if the need arises.
That's what happened last year in a Week 11 win over Kansas City, when Danny Trevathan went to the sideline after a tackle. Johnson ran into the game with the Broncos facing a goal-to-go situation against arguably the league's best running back, Jamaal Charles.
After two plays, the Chiefs had third-and-goal at the 1-yard-line. Charles got the call. Johnson read the handoff from his spot three yards deep in the end zone, shot across the flow of the play and filled the hole, stuffing Charles inside the 1-yard-line and jarring the football loose.
Kansas City kept the ball and settled for a field goal. That was an opportunity that happened because Johnson was in the right spot, with his voice in the ear of Linebackers Coach Richard Smith.
"He's the guy that if anything happens he's so into the game he's like, 'Now, Coach, I'm ready!'" Fox said last year, one day after Johnson's goal-line stop. "So yeah, Richard looked over and Stevie goes in."
Added Johnson on Monday: "I'm always ready to go at any position, and it's just because I love the game, I love flying around and just tackling people. You can go back to my high-school coach, who used to always say, 'He can tackle. He might not be the fastest guy, but he can tackle.'"
But his speed has improved over time -- especially since he arrived in Denver and began working extensively on special teams.
"That always helps. Playing special teams is nothing but an open-field game," Johnson said. "I've gotten pretty good at that, and shoot, that's going to help on defense [because] you've got guys in front of you keeping (offensive) linemen off you.
"Being able to fly around and make plays, that's what I'm looking forward to."
As Johnson answered questions from two reporters, his former University of Kansas teammate, Chris Harris Jr., walked by, calling out, "Next man up! Next man up!" Johnson smiled as he prepared to answer another question.
Every Bronco can probably recite those three words in his sleep. The phrase was a mantra that helped define last year's team as it overcame injuries to 13 different starters over the course of that season to win the AFC.
Many of those "next men" did well. Now, another one will get a chance at middle linebacker. And if it's Johnson, he's ready to turn his apprenticeship and instincts into a chance to show what he can do.
"I've gone in here and there and made some plays," Johnson said. "Even in the preseason -- I always think about the preseason and how I played. I played pretty well this preseason: a couple of interceptions and I made some key stops.
"And I always think back (and ask), 'How was I flying around? Was I getting off blocks, and doing what I was supposed to do on the defense?' I did pretty well."
The Broncos will need that if they opt to call Johnson's number Sunday.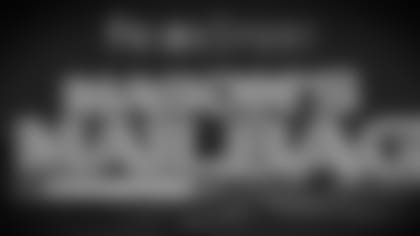 ](http://www.denverbroncos.com/masonsmailbag "Mason's Mailbag")