ENGLEWOOD, Colo. --In signing defensive linemen Domata Peko and Zach Kerr on Monday, the Broncos found a pair of high-energy, high-effort players who use raw strength and persistence to provide interior disruption.
They also found two players who should give the team plenty of options and flexibility for their defensive line to complement the returning linemen already under contract: Derek Wolfe, Jared Crick, Adam Gotsis and Kyle Peko -- Domata's cousin.
Let's take a look at how each will fit:
It's not just about what Domata Peko brings on the field -- it's his locker-room contributions, as well.
A long-time team captain in Cincinnati during most of his 11 seasons there, Peko will be counted on to not only anchor the Broncos' defensive line from the nose tackle position, but to provide leadership for not only his position group, but the entire defense.
One example of that came in 2011, during the offseason lockout. With team-organized workouts wiped out, it fell to the players to cobble together their own sessions. In Cincinnati, Peko handled that for the defense.
On the field, Peko's role should not change much as he moves from Cincinnati's 4-3 alignment to the Broncos' 3-4 base formation. He'll be asked to clog up the interior and free the inside linebackers to make plays against the run.
ZACH KERR: QUICKNESS AND BALANCE THAT BELIES HIS SIZE
Kerr's arrival gives the Broncos a massive presence on the outside on first and second downs; at 334 pounds, he has the size to go inside, but he also possesses the quickness to operate from a 5-technique alignment.
Kerr had a season-high five total tackles in the Colts' 34-20 loss at Denver last September, showing his versatility and quickness in having perhaps his best game of the season.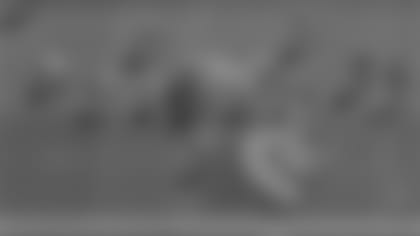 Early in the game, Kerr made a solid play against the run, which began when Kerr aligned himself over right guard Michael Schofield's outside shoulder. At the snap, Kerr followed the flow of the play as C.J. Anderson veered left to receive the handoff from Trevor Siemian.
When Anderson received the ball, Kerr immediately used Schofield as leverage to turn and fill the hole being created as Anderson cut back to his right. Kerr then dodgeed Donald Stephenson to hold his ground and stuff Anderson for a 1-yard gain.
Although Kerr should allow Jared Crick to return to his role as sub-package pass-rush specialist, the fourth-year veteran can also attack the quarterback, as he demonstrated two plays after his stop of Anderson.
With the Broncos in third-and-2, Kerr aligned himself wide of left tackle Russell Okung, and rushed inside at left guard Max Garcia.
Using a bull rush, Kerr knocked Garcia back on his heels, then turns inside as Trevor Siemian steps up in the pocket. Kerr then brought down Siemian for a sack despite Garcia's best effort to hold Kerr back, allowing the Colts to get a third-and-2 stop.