Emmanuel Sanders saw his future as he lay in silver Lombardi Trophy-shaped confetti.
Sprawled alongside his son, Princeton, at Levi's Stadium, he saw what he wanted to accomplish and where he wanted to be. In that moment, which he pressed himself to remember, Sanders saw what he needed.
He wasn't dissatisfied. Sanders enjoyed the 2015 season. He enjoyed the catches, the big plays and the touchdowns.
He sure as hell enjoyed Super Bowl 50, a 24-10 Broncos win that put a world-championship ring on Sanders' finger and sent Peyton Manning off as a champion.
With the victory, Sanders fulfilled a dream he envisioned on the day that he signed his contract with the Broncos as a free agent.
"My ultimate dream is — I just had a son — and I want to go hoist that Lombardi and have my son run onto the field," Sanders said in 2014. "This is a place that can make that dream come true."
Two years later, Sanders found himself in that moment, and he knew he didn't want to be anywhere else. He knew he wanted to remain a Denver Bronco.
"That's one of the reasons why I signed here," Sanders says now. "We have an opportunity to hopefully build a dynasty. I could have gone somewhere else probably got more money or [gone] to a pass-heavy offense, but this is where I want to be. This is where I want to be able to win championships and be loyal to a city that's been loyal to me."
Sanders had succeeded, for himself and for those who support him and the Broncos.
"One of the best moments in Denver was being able to bring a parade to Denver and live in that moment with a million people coming out there," Sanders says. "They're the most loyal fans I've ever been around. Rain, wind, snow, sleet — even in a loss, they support the team. Being able to be on a fire truck with Demaryius [Thomas] and saying that we were the world champions of that year. I want that moment again."
And now, after signing a three-year contract extension through the 2019 season, Sanders will have the opportunity to do just that ­— to work toward earning a companion for his Super Bowl 50 ring on the team where he feels that opportunity is greatest.
For Sanders, Denver is the only place to be because the Broncos have the one vital characteristic that brings the locker room together, and that's a championship mentality.
"When you speak of a Denver Bronco, to me it's all about chasing championships, trying to make history," Sanders says as he looks around the locker room. "Just being around these guys like Aqib [Talib], Demaryius, guys that want to win championships, … we're chasing goals. We're chasing championships."
He's not the only player who chose to stay in the Mile High City to try to win back-to-back Super Bowls. Linebacker Brandon Marshall is back. Running back C.J. Anderson is back. Super Bowl 50 MVP Von Miller is back.
However, Manning has retired, and Brock Osweiler, who threw passes to Sanders when Manning recovered from a foot injury, signed with the Texans in free agency. This uncertainty at the fulcrum of the offense could deter a wide receiver from locking into a long-term contract, but Sanders knew the Broncos offense had the talent to be successful.
Through the first two games, the Broncos were undefeated, and the wide receivers were happy, but they wanted to contribute more to the offense.
As Head Coach Gary Kubiak said that week after beating the Colts, that's what you want from guys who put up a combined 393 catches for 5,462 yards and 32 touchdowns over the last two years. It's what you want from one of the best wide receiver duos in the league.
"Sometimes, me and Demaryius get frustrated because we know how good we can be," Sanders says. "We know we can be a top-five, top-10 offense. … We can pass the ball. We can run the ball. We can do whatever we want. It's just about continuously getting better, continuously believing in the system, and someday it's just going to open up a hole and take off."
That day was Sept. 25, a road game against the Bengals. In the third game of their third season together, the two broke free for 217 yards and three touchdowns. The performance marked their sixth game recording at least 100 receiving yards apiece.
"That's the one-two punch," Sanders says. "Me and D.T. take pride in being the best wide receivers group in the NFL year-in and year-out. The past two years, we've been that. It's our third year together and hopefully we're that way again."
In the second year of Kubiak and Offensive Rick Dennison's offense, the entire team looks more comfortable. The rushing game established itself as a dangerous threat in the first game, and now the passing attack has caught up as Trevor Siemian progresses in his first year as the starting quarterback. Together, Sanders, Thomas and the team feasted in an outstanding road win.
The performance earned the offense some attention that has more often gone to the Broncos defense in recent months.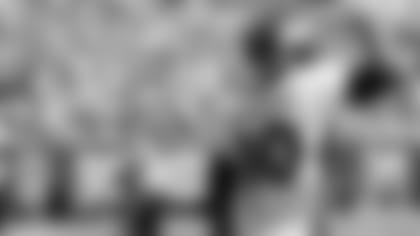 "Every week in the locker room we've got the TVs on and it's always defensive players up there," Sanders says. "I keep telling the offensive guys, 'Hey, look, that's not fair.' We've got a powerful offense and some offensive guys deserve to be up there. But we don't want to just be up there. We want to deserve to be up there."
That game against the Bengals proved that the Broncos had potential beyond just the power of their defense. It proved the offense had potential beyond its rushing attack, which had led Denver in the first two games.
"We know the potential of this offense," Sanders says. "We know that we can have a balanced attack and we can go out and throw 300 yards and four touchdowns and we can also run the ball, too. We can rush for 150 yards. Obviously, all of that comes with preparation out on the field and executing at a high level and maximizing our potential. I think our potential is that the sky's the limit for this offense and this defense and this team — as long as we go out and work."
There should be no concern about that part.
"You never become satisfied or stagnant in this league," Sanders says.
Sanders realized one of his greatest dreams in Super Bowl 50, but he's not even close to satisfied.