DENVER –Back in May, when a group of Broncos visited the intersection of 51st and Sherman streets in Denver's Globeville neighborhood, all that greeted them was a dirt lot.
Fast forward to October and there are now 11 new townhomes on that same lot with families getting ready to move in thanks to Habitat for Humanity.
This week, Habitat brought in some star power to help put the finishing touches on the homes that were built as part of the 2013 Jimmy and Rosalynn Carter Work Project.
The former president and first lady helped with construction during the day on Wednesday, enlisting help from country music singers Garth Brooks and Trisha Yearwood.
Brooks and Yearwood joked that if the 89-year old former president and 86-year old former first lady were swinging hammers, they couldn't slack off at all.
After the work was done, Habitat celebrated the 30th anniversary of the Jimmy and Rosalynn Carter Work Project with a dinner to thank all those involved and revel in the amount of work that had been completed.
Throughout the project, the Broncos partnered with Habitat.
On May 15, a group of players including cornerback Champ Bailey, safety David Bruton, longsnapper Aaron Brewer, punter Britton Colquitt, kicker Matt Prater and wide receiver Demaryius Thomas visited the families that would move into the new houses.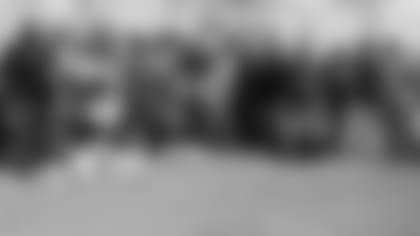 "I'm already pretty tied to this community," Bailey said at the time. "A lot of what I do is with the Denver Rescue Mission, so I wanted to try something a little different and try to help out in different ways and what better cause than Habitat for Humanity – they do everything."
"It's very important for these families to have a roof over their head," Robin Fox said. "The long-term effect of children having a stable place to go and do their homework in a home to call their own – that is what makes a family."
On Tuesday, Demaryius Thomas returned to the site, joined by cornerback Dominique Rodgers-Cromartie, cornerback Tony Carter, safety Omar Bolden, tackle Chris Clark, tackle Paul Cornick and guard Ben Garland. The group signed autographs and posed for photos with the volunteers who were working to finish the houses.
"Anytime you can do something positive and give back, it's a plus. It's uplifting," Bolden said on Tuesday. "Positive energy is good for everybody. You see the smiles on people's faces around here – everybody's here having a good time. We're giving back and I think it's great."